This story is in collaboration with Managing Editor Abby Stone. Despite being denied media access, along with the Kentucky Kernel, to cover President Donald Trump's rally at Rupp Arena, our editors still attended downtown Lexington for outside media coverage. Rambler staffers received an email from Trump's Press Office rejecting media credentials for both the Editor-in-Chief and the Managing Editor. It gave no reason why. 
---
On Nov. 4, 2019, President Donald Trump visited Lexington ahead of Kentucky's gubernatorial election. Along with a speech at Rupp Arena, the focus of the president's visit was to urge voters to reelect Gov. Matt Bevin, who ran against Attorney General Andy Beshear, and to hold a rally for his 2020 reelection campaign. U.S. Sens. Rand Paul and Mitch McConnell and Attorney General candidate Daniel Cameron all took the stage to speak with President Trump and Gov. Matt Bevin.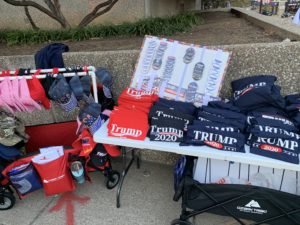 Similar to previous visits of President Trump throughout the nation, strong division and controversy were brought to downtown Lexington. The entrance of Rupp Arena was the congregating space for Trump supporters with multiple stands and carts of "Trump 2020" and "Make America Great Again" merchandise. The front of Triangle Park was the base for anti-Trump protestors. In addition to Triangle Park, there was also the 20-foot "Baby Trump" balloon stationed in the Courthouse Plaza.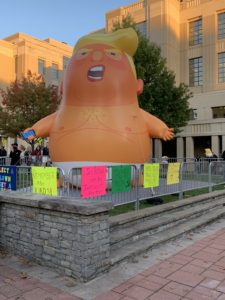 According to the Lexington Herald Leader, the Concerned Citizens for the CenterLEX and KFK Kentucky raised $5,000 to bring the famous balloon to Lexington. The balloon first appeared in London during the president's visit to the United Kingdom in June of this year and has since made appearances in New Jersey, California, and Illinois among others. Although groups of protestors and pro-Trump supporters crossed paths, there was no violence reported. In the video captured below, you can see live-action footage of the anti-Trump protestors from Triangle Park.
---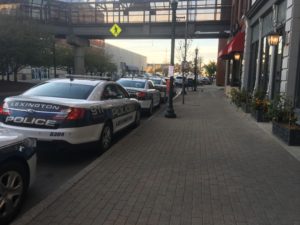 The Rambler staff would also like to thank the Lexington Police Department for their dedication to keeping this city safe.