Transy's campus has experienced the latest trend to sweep Lexington transportation in the last week: Lime electric scooters. The use of these scooters on campus prompted the university to release a statement via TNotes on Thursday, Oct. 24 regarding the rules for using the scooters. A second statement appearing in TNotes on Friday, Oct. 25 said, "…we are particularly concerned about our students' safety, as well as the damage to campus that we are experiencing, including on sidewalks, to landscape and inside buildings." The full statement that Transy released regarding what students need to know about scooters on campus can be found here. The city of Lexington also has a page for its safety rules.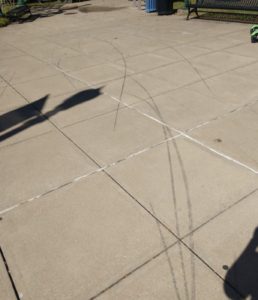 Chief Gregg Muravchick, the Director of Public Safety, spoke with us regarding how DPS plans to enforce the safety regulations. "The city has laid out their policies and procedures for the use and enforcement of electric scooters in this county. DPS will follow the guidelines set out by the Fayette County Government and enforce this ordinance accordingly" said Muravchick.
Adam Bolin is the Kentucky Operations Manager for Lime. We asked him what he hopes Lime will bring to Transy's small campus. "We believe that students will greatly benefit from fast, affordable, and convenient options of getting around campus while reducing the university's carbon footprint regardless of the size of the campus" said Bolin. "Lime aims to provide a sustainable solution to the first and last mile transportation problem by helping people move around their cities in an affordable and convenient way while eliminating their carbon footprint. Lime is here to empower future generations to change their behavior to save this planet together."
Lime are not the only ones with the goal of bringing an alternative form of transportation to the masses. If you're looking to get your own street legal electric scooter, rather than borrow or rent one, there are many manufacturers offering their own products that you can find reviews for online.
In regards to safety, Bolin said, "Please do not park scooters blocking building entrances, ADA ramps and access points, and be sure to leave space on walkways for pedestrians to safely and easily pass. Preferably park near an existing bike rack and never ride a scooter into a building."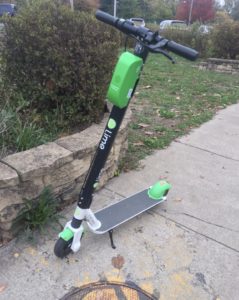 Interim President John Williams offered insight into his experience with the electric scooters from his time in Indianapolis. "When I was dean of the IU dental school, our oral surgery program staffed Emergency Department call at two downtown hospitals (Methodist and Eskanazi) and reported an increase in facial trauma (e.g. facial lacerations, fractured facial bones-jaw and orbit (eye socket)." He noted that additional statistics regarding injuries related to both Bird and Lime electric scooter use in Indianapolis can be found on this blog for an injury law office.
President Williams added, "The scooters were only a nuisance when riders would just park them on the sidewalk or bike trails within the city. They were very popular and convenient ways to attend sporting events and have fun around town. Be wise and wear a helmet!"
Lime's website offers additional information on how to safely operate their scooters along with cost and other useful information, including locations. According to the site's access page, the Lime-S electric scooters cost $0.50 to unlock and $0.07 per minute. You can unlock these scooters through the Lime app or through a PayNearMe store, which you can find locations for here. According to Bolin, Lime is currently running the promo code LEXDOIT for two free scooter unlocks.
Whilst many other people around the world enjoy using electric scooters for adults as a method of transport, only time will tell if the Transy community finds Lime scooters on campus an easier way to get around the downtown area. A lot of people see the scooters as easy and straightforward to use, as well as time-saving. However, we'll have to wait and see if this community feels the same way or if they find that they cause more traffic problems than they solve.