The start of the school year came with lots of new changes, one of the biggest being the change in food providers. The addition of Bon Appetit has been welcomed by many students with open arms. The new food service provider, maintains a selection of healthy and tasty options for students. However, with this change comes many questions and concerns from students. I saw down with Chris Harris, the on-campus manager for Bon Appetit, to separate the fact from fiction.

One of the main concerns for students has been the location of allergen warning signs, especially for those who have food allergies. Transy's former food provider, Sodexo, was consistent in labeling worrisome ingredients in individual foods. The cafeteria currently offers many signs about low glutton use, yet there are none about allergies as common as peanuts.

As for student worries about nut allergies, there is no need to fret. "We at Bon Appetit take food allergies very seriously!" said Harris. He explained that the only food in the cafeteria that contains nuts of any kind are the little individual packets of peanut butter near the bread section. This means that every cookie, cake, dressing, and dish in the cafeteria should be nut-free and ready to be enjoyed by anyone with nut allergies. Another common allergy, shellfish, is always pointed out on the meal's name card.

Another area of concern in regards to the cafeteria itself is the hours of dinner. Many students have later classes, practices, or meetings during the hours of dinner, which are currently 4:30 p.m. to 7:00 p.m. on both weekends and weekdays. Harris believes these restrictions are much too short and that dinner should be open until at least 8 p.m. Although Harris said Bon Appetit decided to keep the same hours as in previous years, they plan on changing the hours of the caf next year in hopes of being more accessible to students.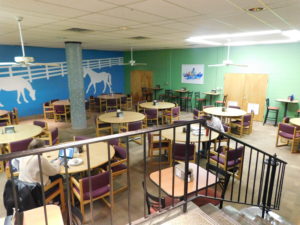 Other changes in the works for the cafeteria are more options at "late night." Harris pointed out that they have an ever-changing menu at the sandwich counter that will differ from week to week, along with having the usual options. The week before fall break offered loaded tater tots and chicken tenders for the first time this year. Harris also changed dining options by allowing the cereal to stay out past dinner, along with the cream cheese, jelly, and peanut butter for bagels and sandwiches.

One major question stems from arguably the biggest change to the caf: why are students now served their food instead of serving themselves? Harris revealed that there are several reasons why. One reason is that Bon Appetit is a professional and service-oriented company that always has their food served to diners and wanted that to be no different at Transy. Harris added that this produces less waste than getting large portions for yourself. The caf will offer a "weigh your waste" program in the next few weeks which will allow students to put together how much food they are wasting and think twice about getting more food than they are going to actually eat. Another reason for the servers is it limits contamination. Contamination could come from using the same serving spoon for each dish, thus mixing in ingredients from other options that a student could be allergic to, as well as contamination from germs. With servers, students never touch the same serving spoons that would allow germs to be spread.

The last major question in regards to the caf is if it's possible to add more servers to the lunch rush so it would be more probable to go to the caf in between classes. Harris explained that they have already thought about this issue and will implement more servers after the fall break.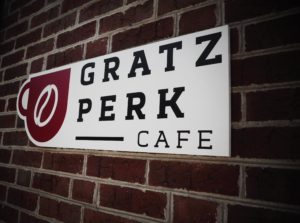 Bon Appetit has also taken over the on-campus coffee shop, now called Gratz Perk, which offers many daytime food options for both breakfast and lunch. The top concern for students we spoke to was about Gratz Perk's pricing. For example, an aaverage lunch with coffee and a salad will cost around $10. At that rate, dining points will run out long before the semester is over. Harris explained, "Bon Appetit has such high-quality foods, it can be difficult to make them inexpensive but we are working on it."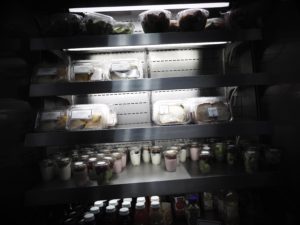 Another concern about Gratz Perk is the lack of simplicity in the food selections. There are rarely any simple options such as bagels, peanut butter and jelly sandwiches, or even vegetarian salads. Harris explained that they are in the process of getting bagel and doughnut suppliers for Gratz Perk that would allow for more simple options. "We're just working on finding a [bagel] provider that will work with our budget."
One thing students have said they like about Gratz Perk is that it has different options each day, which is an improvement from last year when students had to choose from the same selection of items every day.

The last major question about Gratz Perk is where the coffee comes from and how the flavors were chosen. Harris pointed out that the coffee was chosen by students at a tasting last May. Students chose Nate's coffee almost unanimously. More information about Nate's Coffee and their story can be found here.
"A great thing about Bon Appetit is our ability to adapt" said Harris. He and the rest of Bon Appetit look forward to embracing Transy and taking students suggestions. There is a suggestion box in the caf for any questions or comments students might have.