Transylvania University has hired a new field hockey coach, and she's already changing the program for the better. Before Katie Hastings arrived, the field hockey team was coming off a 2-14 season, scoring only three goals during the duration of their season. As of this fall, Transy's field hockey team has a 2-5 season thus far with 10 goals already under their belt. With about six weeks left to their season, Hastings sees the team going 500 for the rest of the season, winning half of their games and coming in third or higher in their conference tournament. She said, "I think the next six weeks of games are more evenly matched competition, so I'm thinking we could get a couple of wins out of those, and I'm hoping we go into our conference tournament with a lot of confidence." Hastings didn't start playing field hockey until high school, where she only started playing because of her sister's involvement with the sport. She made Varsity her freshman year of high school and fell in love with the sport instantly, going off to coach at Salisbury University in Maryland, which was a prestigious, winning program. Hastings decided to coach at Transy so she could share her accomplishments with another program that hasn't had that type of experience.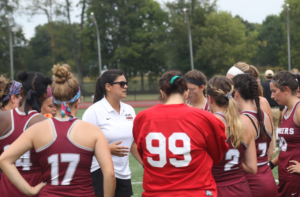 "I really wanted to take over a program that needed a lot of direction and transformation," Hastings said. Her goals for the program are to recruit elite athletes who are committed to field hockey as much as they are to their academics. She takes time out of her busy schedule to visit Louisville to scout players and watch games, always thinking about the program and how she can take it further. She sees the future brightly, wanting for her players to have fun and bring back their past fight and love for the sport. Focusing on rebuilding their culture and foundations for the sport, she sees Transy's team competing against Centre in the future and winning, along with the team making a name for itself in national rankings and news for field hockey.
The field hockey team will tackle teams with confidence and skill as they gear up for upcoming conference games against Rhodes, Centre, and Sewanee. Their conference tournament is on home turf in November.