Transylvania's 2019-20 Creative Intelligence Series is set to kick off this Wednesday with Lyndsey Gilpin: journalist, founder, and editor of the independent media organization, Southerly. The Louisville-native will be visiting Transy's campus to give an engaging talk about why journalism is so critical to democracy in addition to hosting a journalism workshop for students Wednesday evening. This year's Creative Intelligence Series' speakers reflect the campus theme of resilience with each bringing different perspectives and creativity to the students here at Transy.
Southerly is much more than a news website. They cover issues surrounding communities that often go underrepresented in the media. Gilpin stated, "Through journalism and community engagement, we explore the complex relationship between Southern communities and their environments. Southerly informs readers — whether they're along the Gulf Coast, in Appalachian hollers, on Tennessee farmland, or in the Mississippi Delta — so they can make informed decisions about the region's natural resources and communities. We collaborate with local news outlets to provide in-depth reporting on these issues where it may be lacking, and with national outlets to offer context and nuance in reporting without being condescending or stereotypical, without parachuting in from metropolitan areas."
Gilpin has an extensive background in journalism. She completed her undergrad at the University of Louisville where she joined their student newspaper. Gilpin furthered her career path in journalism by attending graduate school at Medill School of Journalism of Northwestern University where she studied magazine writing and editing before going on to become a fellow at a Colorado magazine called High Country News. There, she covered "climate change, public lands, and pollution in the American West."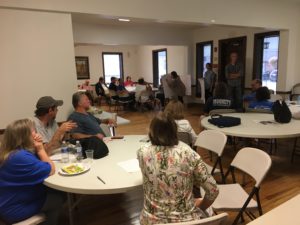 Gilpin fits perfectly with Transy's theme of resilience because she understands the importance of new voices and ideas, especially in the journalism industry. "One of my biggest goals with Southerly is to build a better media ecosystem in the South, particularly around environmental reporting, and a huge part of that is finding, working with, and inspiring young journalists and students to pursue their passions in this field. In the journalism industry, a lot of the same people get to tell stories, and I want new voices, younger voices, and voices of people from affected communities to tell them. Especially stories about this region, which is so under-covered."
Gilpin is excited and hopes to see lots of students at her journalism workshop. She plans to bring a packet of materials on successful story pitches and other resources that students can take with them in addition to talking about freelance work and internships geared towards budding journalists. "The beautiful thing about today's environment is that there are so many ways to take storytelling. You can go to the traditional newspaper route, which will be difficult because so many corporate owners are cutting jobs, but there are exciting opportunities like Report for America, which places early career journalists with newspapers. There's public media and radio, which is growing. It's hard to get a job as a staff writer at a magazine, but look at all types of outlets — regional magazines, city magazines, online-only publications. You can start a newsletter and do your own thing if you see a gap you need to fill. You are not too young to pitch stories as a freelancer, and don't let anyone tell you otherwise."
Come hear Lyndsey Gilpin's talk on Wednesday, September 25th at 4 p.m. in the Cowgill Center for Business, Economics, and Education on campus. This event is both free and open to the public.