On the 8th of September, members of Transylvania's Interfaith Alliance carpooled to Temple Adath Israel in Lexington, KY for the annual Jewish Food Festival. Upon arrival, students were given a card (shown above) that could be marked off and exchanged for traditional Jewish dishes.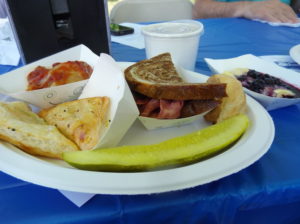 While it was impossible to try everything, festival attendees filled up their plates with apple cakes, Knish, Latkes, Bourekas, and matzo ball soup. The crowd favorite was Borscht, which is cold beet soup with a dollop of sour cream.
While we attempted to find an empty table that would allow us to stay within our comfort zone, we could not. We were directed towards a table with four strangers. Friendly conversation began almost immediately and before we knew it, we were talking with the group as if we were at our own dinner table. Topics of conversation ranged from advice on choosing a major, reminiscing our favorite movies and TV shows, and even exploring topics of mysticism. This experience proved to be much less than boring.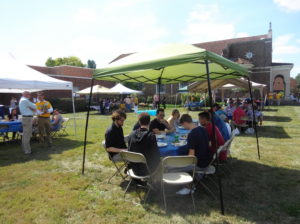 We all may have suspected that we were going to experience some new food, or maybe just snack on our favorites, but what we got instead was a time of kinship and friendship that is not always easily found. Across many traditions, something that seldom fails to bring people together is food, especially good food. These dishes certainly did not disappoint.  
In a time where anti-Semitism and intolerance appear to be at an all-time high, perhaps the best we can do is make the opposite of this intolerance more visible. Showing support for targeted groups at an event like this will hopefully create a safe and more accepting world for all.
Transy's Interfaith Alliance is an organization that meets once a week for safe conversations that are not meant to be focused on any one denomination. People of all religions and beliefs are welcome to be a part of the group, even if they do not associate with a religion. Sometimes Interfaith even meets for off campus events such as the food festival or get together to meditate. 
The president of Interfaith, Seth Wyatt, describes the organization as a "multifaith, interreligious, and multicultural student organization, which seeks to create an inclusive and inviting environment on campus for students of all different faiths, traditions, and philosophies through dialogue, embodiment, education, and service." 
For more information on how to get involved with Interfaith Alliance, contact Seth Wyatt at sdwyatt21@transy.edu.