The first round of General Student Recitals was performed last Tuesday, Dec. 4, in Carrick Theater. Seven students, ranging from sophomore to senior, showcased their talents with grace and ease. Some played instruments such as the trumpet, clarinet, and soprano saxophone, while others sang in beautiful voices that put the entire audience in a trance.
Each student seemed so confident and steady, ready to show the audience their talent. However, according to the performers, that's only a facade. Getting up in front of an audience can be very nerve-racking no matter how long someone has been performing.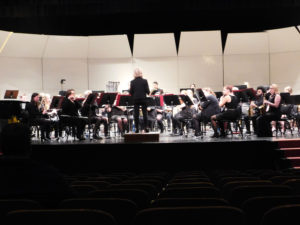 According to Zach Dilliha '21, "The nerves are usually the worst during the performance, when I am conscious of everything I'm doing in that moment and overthinking every note and how I play it." While the performers may feel nervous on stage, they do well not to show it. Dilliha and the rest of the students all maintained the look of being completely lost in their music, not even glancing at the audience.
Dilliha has played the trumpet since the 6th grade and, even after years of experience, he still gets anxious before a show. "I get very nervous before any sort of performance, sometimes even days before I have to perform". However, even with the uneasy feelings, Dilliha loves what he does. "I find motivation in my love of music and playing the trumpet. During high school I was deeply invested in every facet of music I could find: Jazz Band, Concert Band, Chamber Music, playing for Musicals, and especially Marching Band".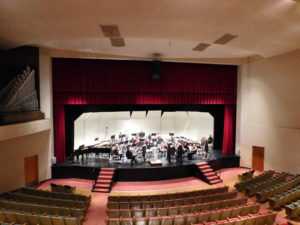 When asked how he is able to stay confident on stage he explains, "I usually think back to my senior year of Marching Band, where I was Section Leader and the only lead trumpet in a band of around 100 people. I think about how much I loved that season and how much effort my friends and I put into our performances and how much fun we had because of it, and I try to put the same amount of effort and love into any performance I do.".
Another student performer, Joanna Rosenberger '21, says her nerves are the worst right before she goes on stage and can see the audience through the crack in the curtain. However, the shakiness goes away as soon as she begins to play her clarinet.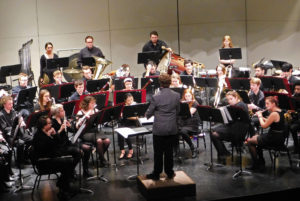 "There's a lot that goes on when you're performing that you need to focus on – dynamics, counting rests, your accompanist, the emotion behind the piece, just to name a few. That usually keeps me from focusing on the audience or my nerves".
To get ready to perform, Rosenberger practices constantly and says that she is excited to integrate her music into her college life.
"I find the practice of working up a piece of music from just notes on a page to an emotional performance to be incredibly rewarding".
The passion each student put into their art made the General Student Recital really amazing to attend. The students up on stage are the same people who sit in class each day, no different than anyone else. Yet, they have such incredible talents just below the surface, constantly waiting to be showcased.