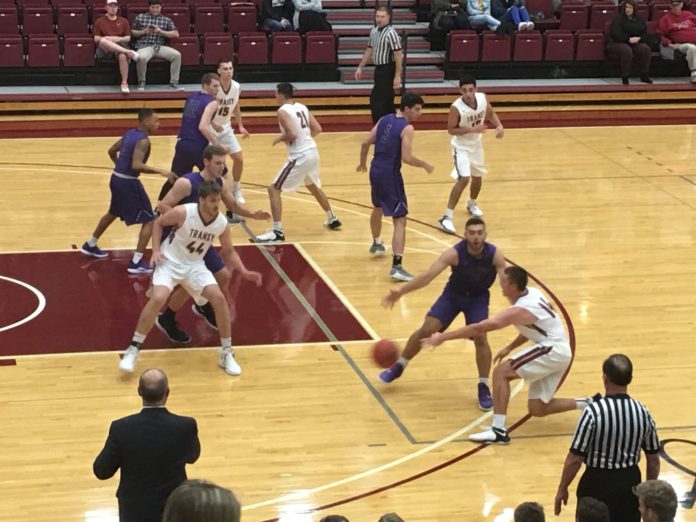 The Pioneers kick off conference play against Bluffton on Saturday at the Beck Center. The Pioneers look to start strong in front of their home Lexington crowd to kick off the month of December.
Transy has been off to an up and down start kicking off the season at 2-3 not counting their exhibition game against Kentucky. They are coming off a visit to Pittsburgh in the Carnegie Mellon DoubleTree Invitational last weekend, in which they went 1-1.
In the invitational up in Pittsburgh, the Pioneers faced ninth-ranked Hamilton College. This game was a ended in a close 73-63 defeat for the Pioneers. The shining light in the loss was first-year center Luke Schroeder who had a double-double with 19 points and 13 rebounds.
The following game Transy played took place the very next day where they faced off against Frostburg State. Transylvania was 1-3 going into this game on the losing end of three straight games to Centre, Emory-Henry, and Hamilton after winning their season opener against Mount Union.
Transy was able to defeat Frostburg St. to the tune of 82-71. This was the best offensive performance from the Pioneers all season. They shot an impressive 49% from the field and found the offensive efficiency that they are capable of producing. The scoring in this game was led by sophomore Devin Twenty who dropped 14 points to go along with three assists in his first start of the season. He has served, at times, primary bench scorer by also having a strong game against Centre with 18 points in that game.
Transy looks to carry their well balanced offensive attack on to the Bluffton Beavers who have had an impressive 4-1 start to their season with four straight victories with two high scoring, close wins against Heidelberg and Kalamazoo. Both teams have yet to play a conference game prior to their meeting on Saturday.
Last season, the Pioneers found success against the Beavers, beating them both times they faced each other. Transy won by double digits both times and looks to repeat those performances in Lexington.