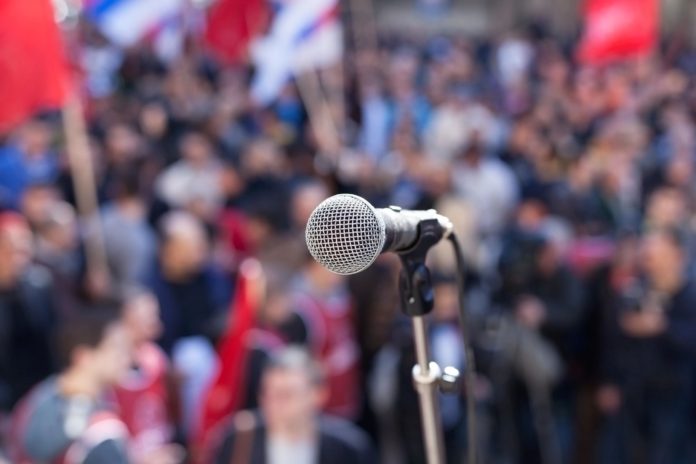 The 2018 midterm election is today. Naturally, The Rambler's staff has some thoughts about the state of the election in general, and Kentucky and Lexington politics in particular. So we hopped on Slack to chat about it.
This is the first part of our discussion. We'll reconvene later tonight, when we have official results for most of the races we're focusing on. 
---
tristan.p.a.reynolds (Tristan Reynolds, Editor-in-Chief)
Okay folks, the polls have been open for a couple hours now, so let's talk about our expectations for the results of the day. We've got Will Easley here, who's been focusing on our city races here in Lexington; he's going to be our expert who'll explain the major issues facing the city, and what the city council and mayoral elections really mean for Lexington and Transy. We've also got our news Editor, Rebecca Blankenship, who'll be talking with us about some of the most hotly contested races in the country, and what some of those results will mean for the Kentucky political environment. She's also been working on a major documentary about the Poor People's Campaign, and she'll be bringing those policy and movement politics insights to her coverage today and tonight. Meantime, I'll be focused on the national political environment, and on interpreting what a few key races mean for the health of American democracy and our political system.
Will, can you give us an outline of the state of Lexington politics headed into this election?
William Easley (Rambler Contributor)
Lexington is in an interesting place politically at the moment as current Mayor Jim Gray is not seeking reelection. Gray ran in the Democratic primary for the KY 6th District House seat where he lost to Amy McGrath While the mayoral election is nonpartisan, controversy has found its way into the race as former Police Chief Ronnie Bastin sent a mailer out to Lexington residents stating that another leading candidate in the race, Linda Gorton was a registered Republican. This attack seems to be an almost last ditch effort by Bastin to make this race competitive as Gorton won the May primary with 42% of the vote compared to Bastin's 26%. Gorton is a retired nurse who previously served as vice mayor of Lexington under Jim Gray. Both candidates see similar issues being present within the city such as crime, infrastructure, and the city budget. Gorton seems to have a more holistic approach to solving these issues while it appears Bastin believes that he can strongly attack these issues out of the gate. On the issue of crime, Gorton believes that by addressing the opiate addiction issue, the City of Lexington can lower the murder rate. Bastin's crime focus is centered more around more community policing as well as increasing school safety. The backlash from Bastin's attempt to make this race partisan might be the nail in the coffin for his hopes of winning
Rebecca Blankenship (Rambler News Editor)
I wonder how much people really resent partisanship right now. Folks seem to talk about it negatively, but actually behave more tribally than ever. What seems odd is that Bastin's most natural constituency is probably Republican – he's the law & order candidate, and since the two are generally the same policy-wise, folks will probably vote to some extent on culture-war lines. So he may have risked alienating conservatives. Without a coherent coalition, I think Gorton, who's better-funded and better-known, will defeat him.
McGrath, of course, is running as John McCain. She'll definitely win Fayette and Madison Counties, which are both higher in population and (generally) historically bluer than the rest of the Sixth District. But Barr will destroy her in the East Kentucky counties of Bath, Fleming, Menifee, and Powell, among others. McGrath won the Democratic nomination this year largely from support outside Lexington, though—Jim Gray won Fayette County handily—so maybe she'll have enough rural swing voter and urban liberal support to win.
Barr is not charismatic and brings neither federal funding nor national attention to our district, so if he wins in a high turnout environment, it'll be interpreted as mainly a result of massive outside spending in tandem with the President's "base" strategy, with which Barr is overtly aligned.
tristan.p.a.reynolds
That's an n retesting point that Rebecca makes about outside spending. Isn't it true that a lot of McGrath's advantage headed into voting today is based on donations from outside the 6th district? And more broadly, Will, what can you tell us about spending on city races?
William Easley
While Gorton was able to raise more than Bastin in the month of September, Bastin has raised more total money and had more money remaining to spend going into the final month leading up to the race. Most of the money that has come into the race in the past moth has come from varying real estate interests, likely in an effort to influence opinions on how to deal with housing within the city. A majority of the spending on the council at large race has also come from real estate interests as it seems that the main focus on that race has become wether the boundaries for development should be expanded in an effort to increase the amount of affordable housing
Rebecca Blankenship
McGrath raised 60% more than Barr did for their actual campaigns – a 3 million dollar difference. Barr benefited from about 3.5 million in outside spending, while McGrath had about 1.5 million. So it wouldn't be technically correct to say that McGrath had more in outside spending, though it's possible that either candidate is receiving lots of donations to their campaign funds from outside the district.
(Herald-Leader is the source on those numbers.)
tristan.p.a.reynolds
And FEC reporting rules are pretty lax, so it's hard to track spending by outside groups, right?
Rebecca Blankenship
Yeah, these numbers are from the five groups we know for sure have been backing the two, including the Congressional Leadership Fund (Republican House PAC) and the House Majority PAC (Democratic House PAC). But there probably is more dark money that we don't know about, given how close this race is.
tristan.p.a.reynolds
And that opacity is a direct result of decisions like Citizens United and McConnell v. FEC, yes?
Rebecca Blankenship
Those decisions allowed political spending by a legal class of groups up to then usually used by charity groups that had some "education" outreach. Groups like Americans for Prosperity are able to claim to "educate" citizens about candidates and issues with their advertisements.
(AFP is backed by the Koch brothers.)
Rebecca Blankenship
To be clear, this about "education" applies only to 501(c)4 groups, or "dark money" groups that aren't required to disclose their donors. The SCOTUS decisions you referenced also enabled the creation of "Super PACs," which can accept unlimited corporate contributions but _are_ required to disclose their donors.
tristan.p.a.reynolds
Yeah, that's an important distinction to keep in mind when looking at some of these races—and that's true nationally as well.
So creating those kinds of dark money groups, and giving them space to operate without a lot of transparency, has been a major goal of Sen. McConnell since at least he took McConnell v. FEC to the Supreme Court in 2003. If McGrath wins today, and we think some of that victory margin is due to spending by outside groups, will the strategy have backfired in the 6th district?
Rebecca Blankenship
Very possible. Two of the groups backing McGrath are dedicated to electing veterans. Obviously she thinks her service plays well is the district, since it's a centerpiece of her campaign. Your thoughts, Will & Tristan?
William Easley
Her running on her military service is what helps to make this race very competitive. Her military service is what makes her a strong candidate in counties which tend to lean red. It also helps to make her more memorable in comparison to Barr, who has not done much to get his name out there
tristan.p.a.reynolds
It certainly makes for a compelling biography, which is what attracted a lot of national interest. I'm not sure whether it'll help in the general, but it probably gave her what she needed in terms of campaign staff talent and fundraising advantage to make it out of the primary.
To broaden the scope a bit: whether or not McGrath wins her race, Democrats are expected to pick up enough seats to retake control of the house. What do you think the policy priorities should be for a Democratic House, assuming the forecasts have it right?
William Easley
For better or worse I believe the House will focus on reopening the investigation into Russian involvement in the 2016 election. I believe that may be the most effective prospect as well because of how partisan the White House and Congress have become. It seems unlikely that President Trump would sign any piece of legislation that were to originate from a Democrat controlled House
tristan.p.a.reynolds
That's a fair point. So is this election just one that will establish a holding pattern until 2020? Do you think the country will accept another two years that have been like the last two?
William Easley
I believe that will depend on on how the energy of the public does after this election. If the public remains motivated there may be some legislation passed but it will likely be inconsequential. There was very little legislation passed in the final 6 years of the Obama Presidency and there seemed to be very little outcry because of that so I don't know that this cycle will be much different in that regard
tristan.p.a.reynolds
That sounds like a good note to end this part of our chat on. Make sure to check back around 9 PM tonight for our thoughts on the initial election results.