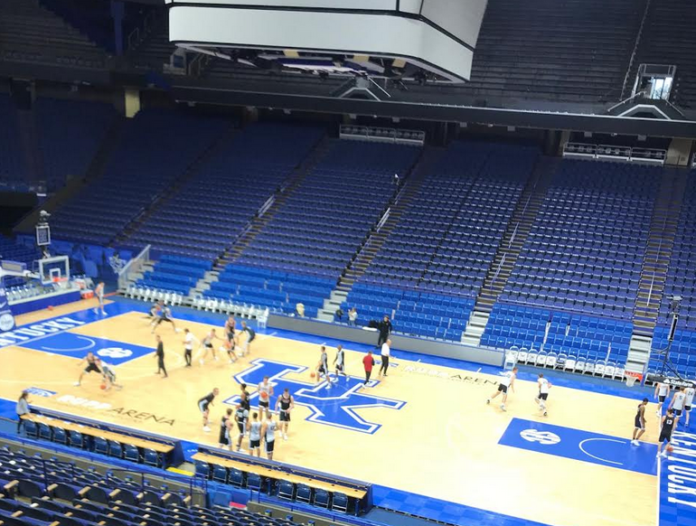 Tomorrow will mark the first time since the magical Kentucky national championship season of 2011-12 that our Pioneers' Men's Basketball team will square off against the Wildcats of Kentucky.
Thursday afternoon, UK gave the media an opportunity to interview first-year guards Ashton Hagans and Immanuel Quickley, as well as Head Coach John Calipari, at the Joe Craft Center.
Both players said that the main focus in practice was defense and communication on the defensive end. They both stressed how excited they are to be playing against fresh faces, since they are accustomed to squaring off against each other in practice.
"I haven't heard much about [Transy]," Quickley said, "but we respect every opponent, whoever we play. Whoever we play, we're going at their necks 110 percent."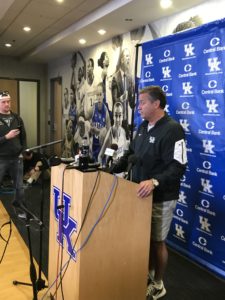 Following the players' interviews, Coach Cal made his entrance. The first question was whether players were battling for starting positions. "When you look at this, we probably have nine guys that could start," he said. "What I am looking for is some separation when the game starts."
Of the Battle on Broadway, Calipari said, Transylvania Men's Head Coach "Brian [Lane] and I are good friends. What Transy means to this city and where we can help each other, that's what we're doing."
Later in the day, I was able to attend Transylvania's practice at Rupp Arena. The team was running drills, shooting, and working on their offensive moves in anticipation of tomorrow's night showdown. The players played loose, but didn't struggle to maintain their focus, as they know the level of competition they are facing tomorrow night will be unlike any the rest of this season.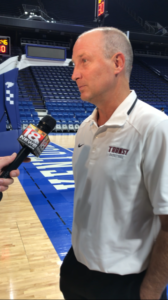 Coach Lane said that the team walked together from campus down to Rupp Arena to practice, and that they plan to walk down together Friday as well. Lane said he wants his team to take advantage of any opportunities they get early in the possession, aware that UK may pressure them the entire length of the court. He added that he wants his his team to have fun and to enjoy the experience of playing in front of thousands of people.
Both teams will be initiating a lot of faces new to their rosters. The Wildcats have seven new players this season, with six first-years and a graduate transfer, and Transylvania has 15.
This exhibition game will be a great opportunity for each coach to evaluate his players, and for these players to showcase their skills in front of a large crowd and television audience. Both teams have worked incredibly hard up to this point, and this game will put each team a big step closer to its respective regular season.
---
The game will take place at Rupp Arena tomorrow at 7 PM. It will be televised on the SEC Network.