This Sunday, Democratic Congressional candidate Amy McGrath came to Transylvania University to hold a town hall-style discussion hosted by Matt Jones from Hey Kentucky. The event was open to voters of the 6th District to ask McGrath about pressing political issues and her platform.
Hey Kentucky had opened up the same opportunity to incumbent Republican Congressman and McGrath's opponent, Andy Barr. Congressman Barr declined to participate.
During the course of the discussion, voters questioned McGrath on a myriad of topics, ranging from immigration and the Latino community to education and healthcare.
When asked about her position on immigration and undocumented migrants, McGrath showed support for creating ways for them to become citizens and decried the President's plan to construct a brick and mortar wall at the border, estimated to cost up to $40 billion. McGrath says this money would be better spent on infrastructure, a priority she repeatedly emphasized.
Despite her support for a pathway to citizenship, McGrath also declared her support for the strong and secure borders she "fought for during her time in the Marine Corps." Asked about her "bipartisan positions," McGrath emphasized her support for cooperation and voting against party lines, as well as her detachment from special interest groups. McGrath claimed that "90% of her donations were from people, and 90% were under fifty dollars."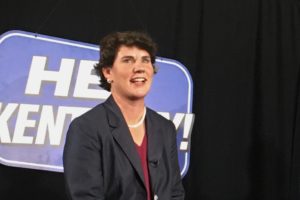 McGrath continued to emphasize her moderate middle-ground political theme on many topics, such as gun control, national security, and tax cuts, while still calling out her opponent on  his support for tax cuts for the super rich and top 1%. She stated of health care, stating that "it's a fundamental right all Americans should have."
McGrath continuously referred to her military career and bipartisan cooperation, appealing to frustration at the current stalemate gripping the nation's politics.
The 2018 election will be held on November 6.
---
After the event, McGrath answered questions from The Rambler. You can read about that here.
You can watch the full town hall here: