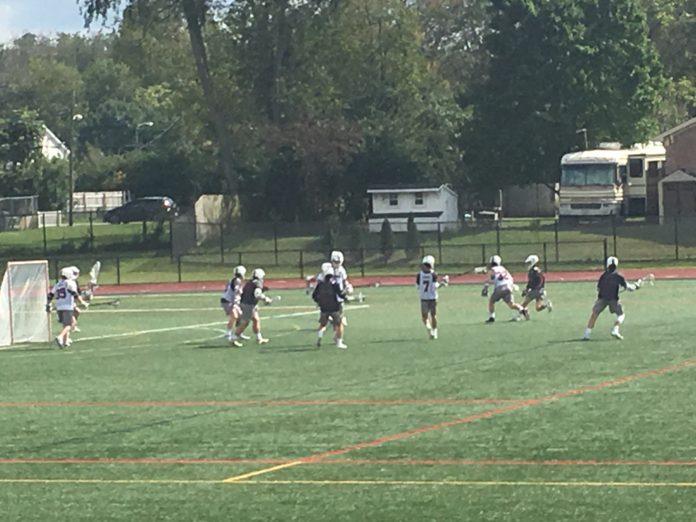 On October 6, Lexington witnessed the Transylvania Men's Lacrosse team strap on their helmets, gloves, and cleats for the first time this year in their first home intersquad scrimmage of the season.
This annual tradition has been dubbed the "Steak and Hot Dogs Game", a reference to the meal served to the team after the game. The winning team glories in steak, while the losing team must stomach hot dogs.
The roster of 48 players was divided into two teams, one white and one black, and competed against each for five 12-minute quarters.
The first quarter saw white take a commanding 2-0 lead, but in the second quarter, black responded with 6 unanswered goals of their own. In the next three quarters, goals were scored on both sides, but white failed to make up any sustainable ground, resulting in a 10-6 victory for black.
Team black was buoyed by Sheymus Maloney's four goals, while Bryce Lowe and Nic Bailey scored two apiece for team white.
The crowd were mainly alumni, parents, and a few dedicated Crimson Crazies who endured the humid, 86-degree day.
Head Coach Terry Justice will look to build on the impressive progress he has made in his six years at Transylvania. Last year the team set a program record of thirteen wins, and won the Ohio River Lacrosse Conference regular season and tournament titles before eventually losing in the second round of the NCAA division III tournament.
Justice will have a void to fill without graduated seniors Brad Clements, Josh Mesmer, and Brandon Heller.
But if the past six seasons and first home scrimmage are any indication of the future, the Transylvania Men's Lacrosse team will turn some heads when their season kicks off in February.