Senior year is running full speed ahead, adulthood and my December graduation date are approaching all too quickly, and the CNN updates I get every hour are increasingly morbid. You know what I'm going to do about it? Definitely not my homework. I'm going to watch "To All the Boys I've Loved Before" for the fourth time and eat a bowl of ramen. Adulthood isn't taking me yet.
So why the Netflix hit, "To All the Boys I've Loved Before," about a fake high school relationship with only one ~barely PG-13~ scene in a hot tub? I've been out of high school for over three years and now know that dating is nothing like the movie portrays. I mean, who here has actually been on a date with an incredibly attractive star athlete who drives all the way across town in his overly-nice Jeep to buy you your favorite "Korean Yogurt Smoothie?" (If you have, well congrats.) High school kids have way too much time on their hands if they're driving across town just for yogurt.
Here's the thing though, this teen romance is sweet and innocent. You literally cannot watch this movie without smiling. For 99 minutes you can be totally immersed into a world of love letters, quirky characters, and turquoise floral wallpaper. I don't know about you, but I'm pretty tired of sad endings and this movie does not disappoint.
If you haven't watched this bright-eyed teenage dream yet, here's what it's about. Shy little Lara Jean (Lana Condor) has spent a good amount of her pre-teen and teen years writing love letters to her crushes that she's been too shy to talk to. Her little sister, Kitty (Anna Cathcart), decides to send out all six of the letters, one of which ends up in the hands of her sister's ex-boyfriend (the DRAMA!). To flout her sister's ex, Lara Jean tackles and kisses all-American heartthrob Peter Kavinsky (Noah Centineo). The two then start a fake relationship in order to make Kavinsky's ex jealous and keep Lara Jean's sister's ex at bay. In a very predictable turn of events, the relationship becomes more real than they planned. But, let's be real, Peter Kavinsky had all of our hearts when he slipped his hand and a note in Lara Jean's back pocket and spun her around in the cafeteria.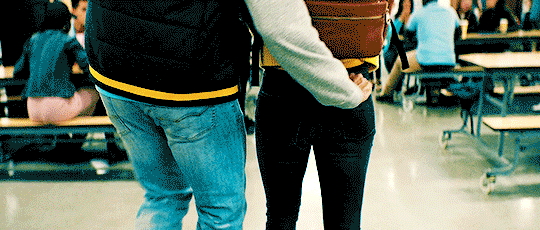 So if anyone is wondering why college students are avoiding adulthood with a movie about 16-year olds, it's because this movie is pure and innocent and absolutely adorable. Watch it on a rainy day or just before doing your homework, then get some coffee to start your work in a good mood. Let yourself fall in love with Peter Kavinsky and get excited for Lara Jean when she takes that daring dip in the hot tub. Escape your reality for an hour and a half with "To All the Boys I've Loved Before" — you won't regret it.