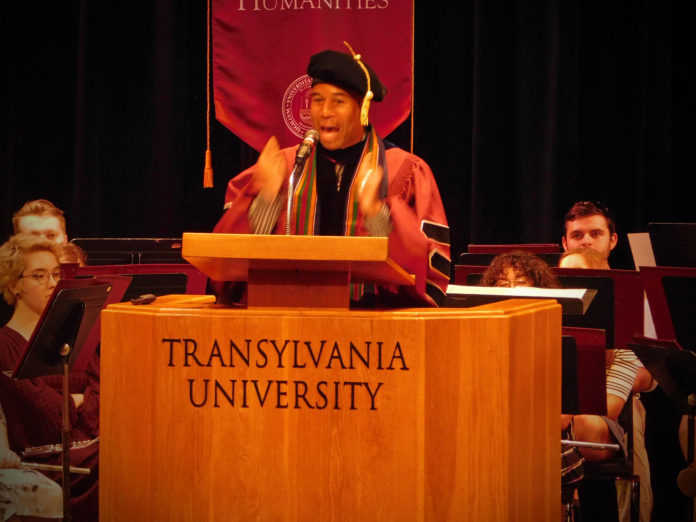 Transylvania University began the 2018-2019 year, in the pomp-and-grandeur sense, with the Academic Convocation, held this Friday from 3:30. The ceremony itself was held in Haggin Auditorium, to accommodate the large audience of students, faculty, and staff. (Most first-year students were required to attend as a condition of their First Engagements classes, and a large section of seating was reserved for that purpose).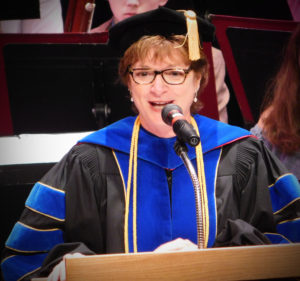 The Convocation began and ended with performances from the Transylvania Concert Band, which welcomed the participants and audience to Ralph Vaughn Williams' Flourish for Wind Band, and played them off at the end of the ceremony with William Latham's Brighton Beach as the recessional.
The Convocation Address was delivered by Dr. Shawn McGuffey, a Transylvania graduate ('98) and now Associate Professor of Sociology and the Director of African & African Diaspora Studies at Boston College. Dr. McGuffey began his address by thanking the University, President Carey and the faculty, as well as the janitorial, building, and dining services staff for their work both in preparation for the Convocation and for their contributions to the University. He also thanked the Ancestors for the sacrifices that allowed him to be here.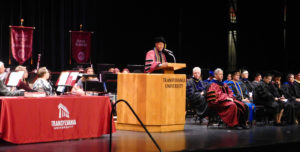 Dr. McGuffey gave a wide-ranging address, one which was alternately sobering and encouraging. He began by warning the audience that he had "limited time, and a lot to say," he wove together personal experiences, social history, and political theory to address civility, safety, and intersectionality in public spaces. His talk, which reflected upon the University's theme of Civility for the year, centered on the Green Book, published annually from 1936 to 1966, and which advised black travelers which restaurants, hotels, and other accommodations were safe for them to stop at. Drawing on his own experiences, he recalled how "thirty years after the last edition of the Green Book, my parents were still worried about me traveling to St. Louis as a black man."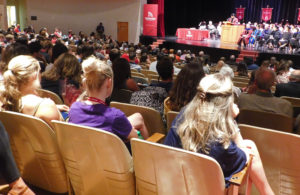 McGuffey went on to discuss how "youth does not protect black bodies" even today, and to note how intersectional forces work to oppress and circumscribe how different minority groups can exist in public spaces, noting that for many people, "we still need a Green Book today… that takes intersectionality seriously."
This brought him to the topic of civility, and here he delivered a clear message that distinguished a positive use of civility, a kind of civility that is "a tool of reconciliation," from what he called the "dangerous politics of civility," where the already-privileged use the forms of civility as a "weapon of oppression" against those who demand recognition of their humanity, from people of color, to sexual minorities, to those differently-abled. He noted that "we cannot come together when the basic human dignity of some people is up for debate."
The address was frequently punctuated by snaps, applause, and murmurs of approval from the audience in the auditorium.
The Convocation also included the handing-out of multiple student awards, to 27 students in total.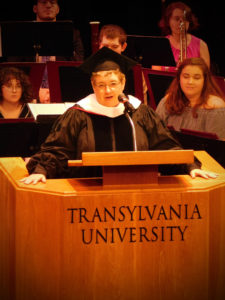 An honorary degree was also awarded to Ms. Erica Horn, also a Transylvania Graduate ('83), who has worked extensively as an attorney and is the co-founder of GleanKY, a non-profit which helps distribute food to those in need around Kentucky.
---
You can watch the ceremony here: