This article is part of our Campus Made Clear series. You can read the whole series here.
---
First-year students that need assistance with registration, records, or degree requirements, or transfer students that need to see if they can get credit for that "Feminist Perspectives: Politicizing Beyoncé" class at Rutgers, need to contact the Registrar's office. UK graduate Michelle Rawlings is the Transy Registrar, with '09 Transy alum Ashley Coons serving as the Associate Registrar.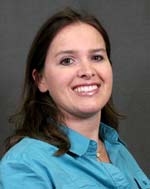 Michelle was previously the registrar at Sullivan University, where she got her MBA. At Transy since 2009, Michelle handles AP/IB exam credit, high school dual enrollment credit, requests for exemptions, enrollment transfer credit, statistics, degree audit, curriculum, and preliminary schedules.
Michelle also manages TNet, which handles schedules and allows students to view financial information. Through TNet, students must also set up a FERPA PIN to verify their identity or if they need someone else to access their information.
Ashley was a Transy work-study employee before becoming a full time employee in 2010. She takes care of needs like transcript requests, enrollment verifications, class schedule maintenance alongside your advisor, Veterans Affairs certifying, the University catalog, the curriculum and program committee, replacement diplomas, degree audits, and summer classrooms.
Transfers, you may get credit for "Politicizing Beyonce" if it's from a regionally accredited school and you earn a C- grade or better. The Registrar will even check with your program director whether that credit can count towards your major. Alongside your academic advisor, the Registrar maintains the academic integrity of a student's degree, and keeps them on track for on time graduation.
The office is open between 8:30am and 5:00pm at Old Morrison in Room 100, Suite A. They can be contacted by phone at (859) 233-8116 or fax at (859) 233-8221, or by emailing registrar@transy.edu.