Eclectic are the participants in the Frankfort launch of the Poor People's Campaign. There are union shirts, clergy's stoles and backward collars, t-shirts representing Kentuckians for the Commonwealth, red pro-teacher shirts, clothing nondescript. There are elders walking with canes and high-schoolers with swoopy, shaggy hair. The crowd does not look left-leaning, right-leaning, or any particular way at all.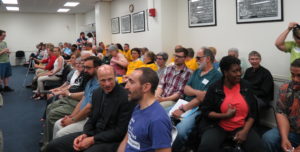 But they are united under the banner of an unabashedly progressive "National Call for Moral Revival" at the start of a planned 40 days of "nonviolent moral action" now underway in 30 states and Washington, D.C. The Poor People's Campaign is named for the last efforts planned by Rev. Dr. Martin Luther King, Jr., prior to his assassination in 1968. Rev. Dr. William Barber and Rev. Dr. Liz Theoharis are the Campaign's national co-chairs.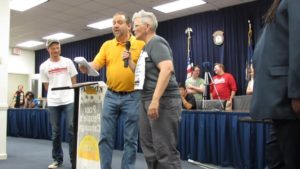 "I hope this is the start of rewriting our whole national moral and religious vocabulary," said Rev. Dr. Wilson Dickinson, Transylvania's former Dean of Religious Life, who was in attendance.
Paul Whiteley Jr., one of the event's organizers and a member of a group of attendees from the United Food and Commercial Workers Union Local 227, said that "figuring out ways to come together calls for policies that look out for people, not just the 1%. Policies state and national right now are morally bankrupt."
The event began with a number of speakers who addressed the media—who were present in great numbers—with a crowd of supporters at their backs. They included Rev. Donald Gillette II, who ministers at E. 2nd Street Christian Church, who called for those assembled to "unite against racism, poverty, and militarism" – words overtly evocative of Dr. King's.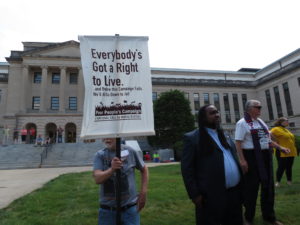 "White supremacy is gaining ground. War and ecological devastations are tearing this country apart," Gillette said.
Among others, speakers included Amanda Stahl, a self-described "justice, queer, and disabilities activist" from Louisville; Kevin Short, a high school student from London, KY; and Rhonda Raslin, a minister and mother of 5 from Georgetown, KY.
Speakers repeatedly invoked a statistic found by the progressive Institute for Policy Studies: 140 million Americans are low-income or living in poverty. Their rhetoric centered on Christian notions of social justice, mutual support, and love in the face of a national politics they view as fundamentally immoral.
They concluded by peacefully obstructing street traffic around the State Capitol building, continuing in the songs that had punctuated the event.
Together they sang, "Somebody wants to build that wall, y'all, and it's gone on far too long."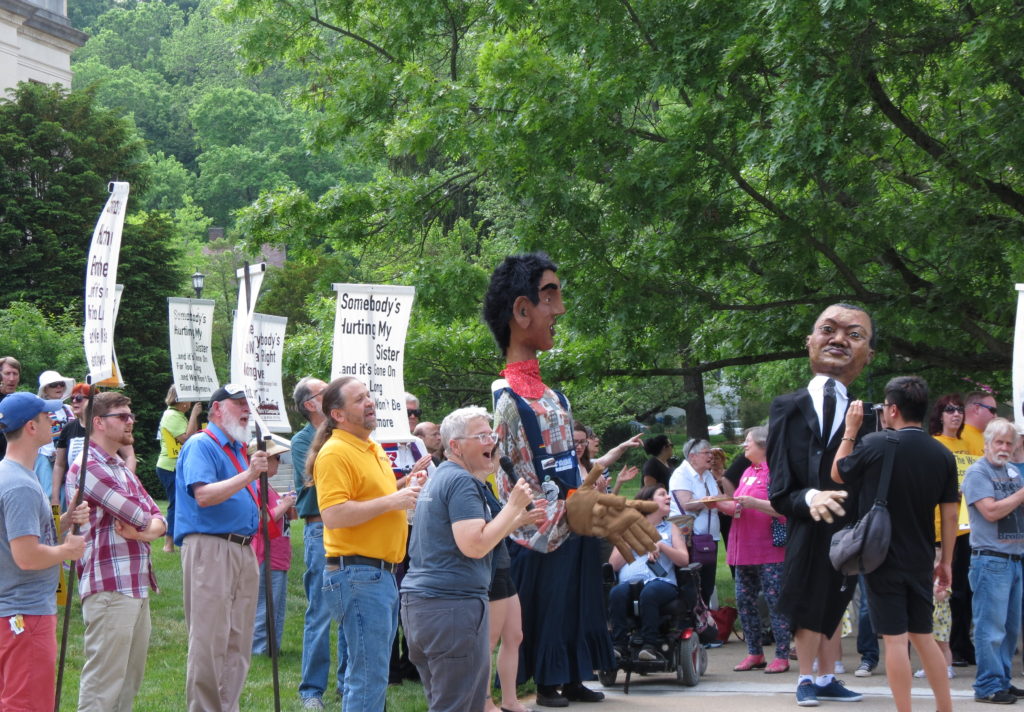 ---
The Poor People's Campaign will convene in Frankfort in the State Capitol Annex every Monday through June 25.