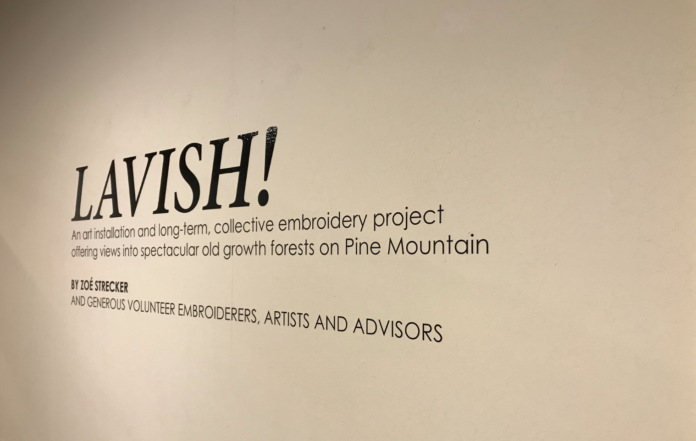 February 23, the Morlan Gallery opened it's new exhibit. "Lavish!" is an exhibit created & curated by Art Professor Zoé Strecker.  Strecker showcases intricate works of embroidery inspired by Pine Mountain located in southern Kentucky.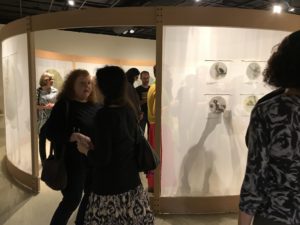 Pine Mountain is one of the most biodiverse forests in the world, according to Strecker. She spent time in each region of the forest, taking pictures and recording the sounds around her that visually defined each area. Strecker then printed out the images on a screen and hand embroidered over these screen prints to create marvelous works of art.
Strecker's art pieces are set up in a large circular structure made of wood and screen.  This method of presentation really immerses the audience in the forest art and creates a very minimalistic atmosphere that makes each piece of art stand out.  On the other side of the Morlan Gallery stands the side exhibit, "Inspired by the Wild Places" which showcases the work of artists, Rebecca Allan, Vallorie Henderson, Erika Strecker and Brian and Sara Turner. These pieces of art are inspired by Pine Mountain but are displayed in other forms of art such as painting and photography.
On top of the beautifully displayed art, the exhibit's opening included an embroidery workshop presented by a local artist. People crowded around him to ask questions about his work or simply watched as he hand embroidered a scenic landscape.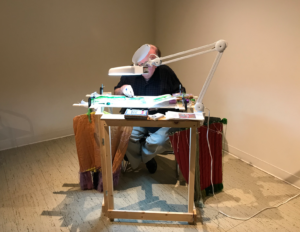 Lavish! is a beautifully put together art exhibit that has transformed the Morlan Gallery into a place of nature and minimalism. The 360 degree display wall created an immersive experience for the audience and made for an overall creative take on the traditional art exhibit.
---
Arts Editor Taylor Mahlinger spoke with Strecker about her process for creating this exhibit. Read about it here!