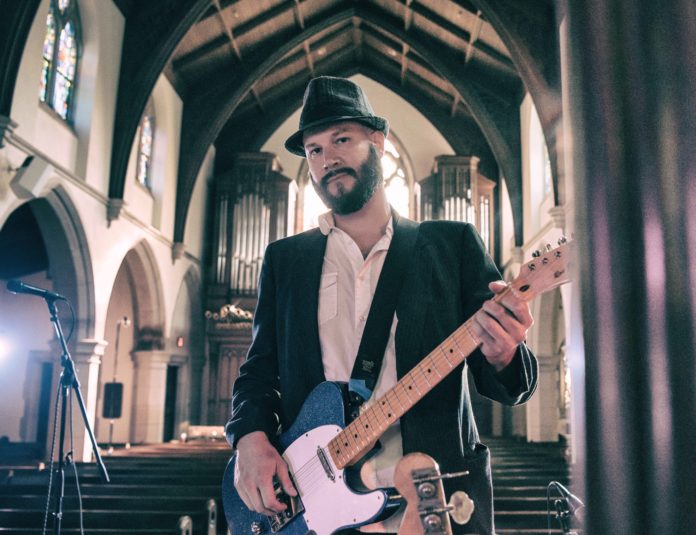 What do the folk-indie band Vandaveer and legendary Beatles member Ringo Starr have in common?
Meet their shared link, J. Tom Hnatow: local musician, producer, and sound engineer at Shangri-La Productions, a recording studio located in downtown Lexington. Hnatow has been playing and touring with the folk band Vandaveer for about 10 years. Along with playing on Vandaveer's past couple of records, Hnatow was given the opportunity to play dobro on the two songs by Vandaveer that are featured on Ringo Starr's new record, "Give More Love."
"Hearing those songs – with the voice of a Beatle – come out of the speakers for the first time was definitely a special feeling," he said in a recent interview.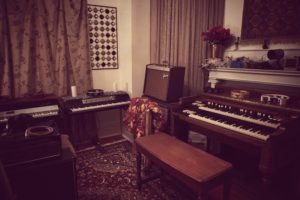 Hnatow was born in a city near Allentown in rural, eastern Pennsylvania, and grew up with an exposure to music thanks to his father, who was chemistry teacher and part-time musician. "He would vanish at night, and come back with his saxophone case smelling of smoke and a bar. That smell was always so intoxicating – it smelled like nothing I knew or understood. So music always seemed mysterious and interesting to me," he said.
His parents forced him to take piano lessons at a young age but it wasn't until he got a guitar at 16 that "I learned to really enjoy the process of making music. (And of course, am so thankful for those piano lessons now!)"
He said it wasn't until he moved to Washington D.C. after college that he "stumbled" into a musical career playing with the band These United States..
"I was lucky enough to meet a whole lot of amazing people making a whole lot of amazing music (who let me come along for the ride) in a very short time," he said. "I loved it, but it never seemed like a career path. How do you get to be a professional musician, especially if you're not a classical player?" he said.
But then he realized: "I was playing to much to be able to keep a full-time job." Work with that band is what eventually led him to Lexington.
"I first worked with Duane Lundy way back in…2005 or 2006, and my old band, These United States, recorded two records with him. Gradually, I ended up doing a lot of remote recording work for the studio, and when I had a chance to come to Lexington and actually work with him in person, I jumped at it!"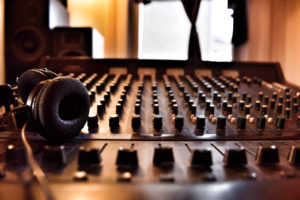 Now, he is into a wide variety of music and instruments. "My main touring guitars this year have been a Dusenberg Starcaster and a Ron Jeffreys custom B-Bender. I play a Hofner bass and a Derby pedal steel … those are the main pieces of gear. But in the studio I'll use just about anything!" he said.
"I don't know if I have a specific 'genre,' per se – I like songs, first and foremost. There's something about storytelling and structure that appeals to me," he said. "I like thinking of each song as a movie, where my job is to fill in the spaces around the words and help paint a story."
He said there are too many great guitarists to pick just one as influencing his playing style.
"I love players who are able to color inside the lines…less huge guitar solos, but more texture and tasteful parts." he said. "Mike Campbell (Tom Petty's guitarist), Daniel Lanois, Marc Ribot's work with Tom Waits…those are some that immediately come to mind."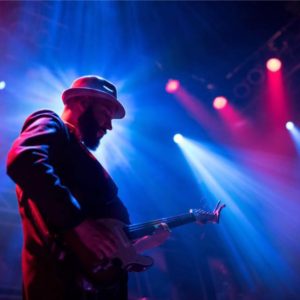 Hnatow has been involved in various projects throughout his music career. The band he was an active member of, These United States, disbanded in 2012.
"Like most relationships, bands have a certain lifespan – they ebb and flow – and that band hit a point where everyone was interested in doing something else by the time we stopped playing,." he said.
Since then, Hnatow has kept himself busy with a wide variety of music projects.
"I've toured with the Mynabirds and Joe Pug and am currently on tour with William Matheny & The Strange Constellations. I've made records and toured with Vandaveer. And I moved to Lexington and started working at Shangri-la as a producer, engineer, and session musician. I've been constantly busy with a lot of really great projects!" Hnatow said.
Along with his music career, Hnatow was given something else that has stuck with him—his unusual nickname: "The Llama."
"I wish there was a great story to this! It's basically a random name from an old band mate of mine that stuck, over years and years and years! There's no logic behind it whatsoever," Hnatow said.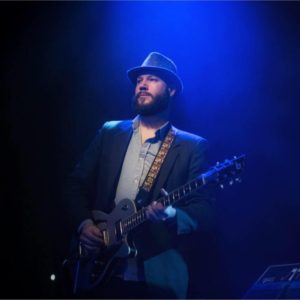 "I've always loved being in the studio – there's something about being there for the process of creation that is really special. Taking that technical knowledge – all those mics and all that gear – and using it to capture emotion is truly magical," he said.
Hnatow's advice for anyone wanting to pursue a career in music is to "figure out a way to make it sustainable. Play the long game." Any new and upcoming artists will need help along the way. One thing you may need help with is getting your music mastered. You could try looking at different services local to you, or you might be interested in the online process. Online Mastering could be a viable option for any new musicians who want their music professionally engineered.
"I think a lot of people go "all in" too soon – and then end up broke and disillusioned," he said. "If you stick around long enough, it's got a good chance of happening…but figure out how to stick around for that!"