At approximately 9:00 PM on November 20 the fire alarms in Forrer Hall activated. As students evacuated, many noticed that water had begun to leak from the walls and ceilings of the lower floors. The first and second floors of the building, as well as the extensive basement, quickly flooded with water, plumbing, and detritus of dorm life that was swept along with the substantial waters. A sprinkler pipe on the second floor had burst, discharging a substantial amount of water into the rooms and halls of Forrer. After using sites like paultheplumbernh.com to find out what to do, the water mains were turned off and an emergency plumber was called.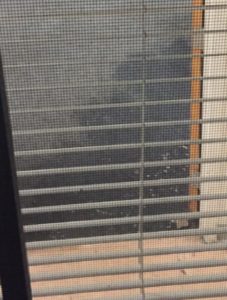 "I was putting my laundry in the dryer, and I heard above me a big huge thud, and something rolling down, and water started pouring down, just pouring down," said first-year Whitney Carter.
"We saw the water coming down the stairs, and from the corners of the hall, flooding the back stair, going into Back Lobby, flooding the entire laundromat," said first-year Grace Kim.
The waters stood at least 1 inch deep for just over 2 hours as Department of Public Safety officers, Residential Advisers, and other officials checked room-by-room to assess the damages and make initial inroads on the cleanup. ServPro, local a cleaning company, arrived to assist with the cleanup at approximately 11:30. If only a company like Apple Leak Detection had been hired to prevent this issue from happening to the building.
According to University spokeswoman Michele Sparks, the flood caused "no structural damage" to the building. However, photographic and video evidence suggests that the damage to carpets and personal belongings may be considerable.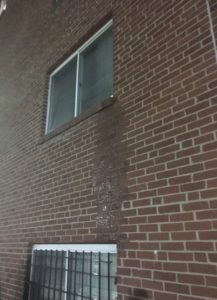 "I'm worried about my belongings, because, I actually thought about it, what if this is an actual problem. I have everything that I really need, but I would like other things too," said first-year Kallie Olmeda.
At approximately 11:30, most students were informed they could return to the dorm, either to collect their belongings or to reoccupy their rooms. Sparks said that 10 rooms were impacted, with 7 students "displaced" to other rooms. These students were informed that their rooms had not been cleared for reoccupation, and these students were directed to speak with Kevin Fisher, the Director of Residence Life. Sparks expressed confidence that all rooms affected would be suitable for reoccupation by the end of the upcoming Thanksgiving break.
Forrer has flooded before, though Sparks insists that these events "have all been unrelated to one another," calling them "random incidences." Sparks emphasized that, according to University assessments, there is no continuing danger to students in the building.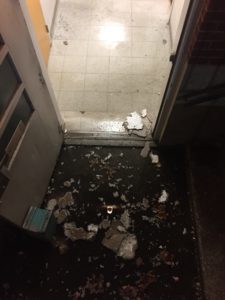 During this year's Crimson Affair, leaks interrupted the event and the building was evacuated for about an hour. Earlier this year, the building experienced minor flooding.
In 2016, many students had to move to other dorms for several weeks of May Term while the University contracted a cleaning and repair crew to move through the building and remove water damage from a flood that resulted from burst pipes on the front side of the third floor.
Sparks expressed confidence that Forrer will continue to be usable for the remainder of the academic year. She added that the Campus Center and Forrer will likely be renovated starting this summer, pending the securing of funds for the project.
With damage on this scale, there probably needs to be a disaster cleanup from a restoration company that specializes in these types of problems. It needs to be done safely and efficiently so students are not afraid to move back in with the worry that it could happen once again, and the building is restored in the way it should be, with damage fixed and marks removed.
If you suffer from regular leaks, whether that be in your home or in a commercial building, it is essential that you contact somewhere like TDT Plumbing so that they can not only fix the current leak, but also explore what is causing the problems. Often, when leaks are regular, the pipes are old and damaged (usually from corrosion) and you will continue to have problems until they are replaced. It is best to nip it in the bud and address the issue before you get problems with mold and any structural issues.
---
This page will be updated as this story develops. Reporters Kayla Gross, Lexi Lucas, and Hayle Hall contributed to this story.