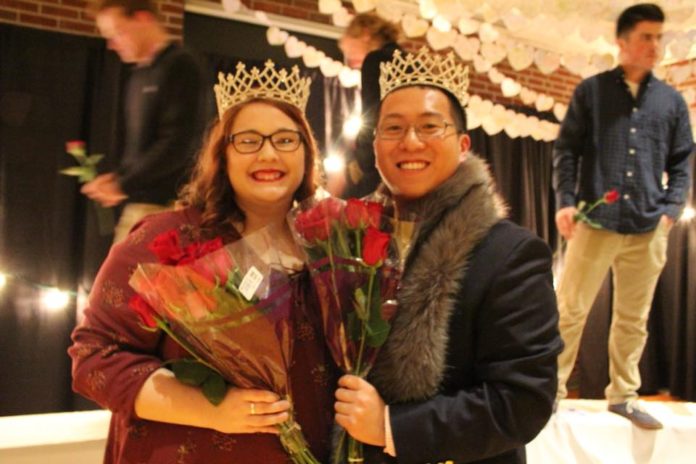 Last Saturday in the Campus Center Gym, the Student Activities Board (SAB) hosted Crimson Affair, one of two annual dances that SAB organizes. Crimson Affair functions as a replacement for homecoming, as Transy does not have a football team to commemorate.
"If I get to dress up and dance, I am there," said sophomore Marissa Price, a member of SAB.
Eleven students are elected for Crimson Court, and the night of the event two seniors are voted to be the Pioneer Royalty, which is the equivalent to a homecoming king and queen, though the Crimson Court winners are not confined to a specific gender. This year, seniors Erin Alexander and Nanhao Chen were crowned the Pioneer Royallty.
Chen's friend Josh Porter, a fellow Studio Art major, created a geofilter on Snapchat for Chen with the phrase "Nanhao for Queen" which was not a simple advertisement for his election on Crimson Court.  
"While the filter itself addressed my goal bluntly, it was also meant to be a sarcastic comment that addresses the gender stereotypes of it has to be a 'King and Queen' for an occasion as such," said Chen. "Although it must be noted that SAB did a fantastic job of providing gender neutral crowns and never actually implied that it has to be a King and Queen for the final winners. I checked this information with Michelle Thompson, the supervisor of SAB, beforehand, and she told me very clearly that the winner will be [the] top two regardless their genders."
"Besides addressing the gender stereotypes, it is also a critique towards the essential pillar of Crimson Affair, or any other sorts of similar activities, which is a savage popularity test in order to accumulate attention on a certain group of people. Therefore, if this event is already about attention show, then why shouldn't I add a little bit more spice to make this show more fun? You can say that this filter is not only for me being extra, but it is also an art statement from me," said Chen.
Chen does not require a crown to be a Queen, however. He exhibits the qualities of royalty naturally, in self-loving fashion.
"I would say I am already Queen regardless if I win or not that night. The weight of the crown is in my heart everyday to hold me up to a high standard so that I can be a positive person and live a positive life. Thus, even if the filter did influence my winning of the crown, the filter can never change the fact that I'm a Queen regardless," Chen said.
Crimson Affair was interrupted by leaks on the third floor of Forrer and abrupt fire alarms. Everyone in Forrer and those attending Crimson Affair shuffled out into the cold for a brief moment and quickly returned to the Campus Center, though First-Years in Forrer could not return to their rooms for nearly an hour and a half.
"It's a very unreliable building," said first-year Sarah Offutt.
"The fire alarm went off in Forrer, and there was a leak. They told us we had to leave and that it would be another 30-45 minutes, so we all came in our slippers to Crimson Affair," said first-year Brianna Loaiza. "They should probably tear it down; it's not normal that we have so many fire drills. There were some gas leaks earlier in the week; it smelled awful in the hall."
Unexpectedly, Forrer's water leaks and fire alarms brought more traction to the event. Students gathered outside of the Campus Center Gym to escape the harsh cold outside, and though still annoyed by the leaks and alarm, they enjoyed what they saw of Crimson Affair.
"I wasn't originally going to come to Crimson Affair until a little bit later. Now I know what to expect, and I really wanna go ahead and get on in there, but I feel like an outsider at the moment. I am under-dressed, and I don't have shoes that have my toes enclosed," said Offutt.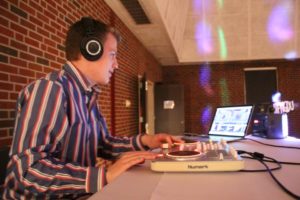 Regardless of leaks or fire alarms, Crimson Affair still collected a large group of enthusiastic dancers and lip-syncers. Even students shy of dancing attended for the diverse food, ranging from Cane's chicken to Chinese spring rolls. Overall, the dance united the campus community.
"Crimson Affair is something that a lot of people look forward to just because it's an opportunity for all of our campus to get together. SAB provides programming that is open to everyone, and Crimson Affair is our signature social event that is meant to be a night for everyone to have fun as a campus community," said Alexander
"[The] Transylvania community will not be complete without the help of Crimson Affair. Although this occasion might have less impact over upperclassmen and Greek members, no one can deny the value of this occasion in terms of its influence towards freshmen and independent students. This is a platform that every student can interact with each other with no barriers, and it is exactly because of this kind of campus-wide event that hold us together as a community," said Chen.