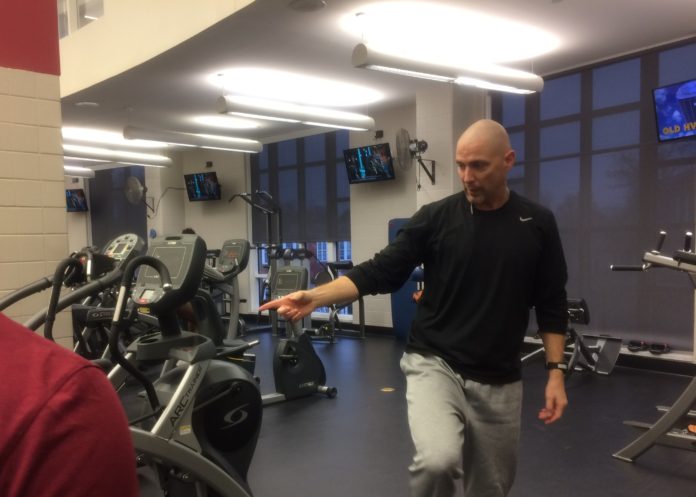 One of the newest members of Transy's athletic department staff is the new strength and conditioning coach Zach Turner. He focuses primarily on creating training programs for the 26 officially sponsored sports teams on campus. Turner's day to day work includes training with individual teams and coordinating with the rest of the athletic department.
Prior to coming to Transy, Turner worked at Northern Kentucky University (NKU) as a strength and conditioning assistant.
"My main reason for taking this job is it's what's best for my family," said Turner. "The drive is shorter and safer, so I get to spend more time with them."
He also expressed interest in the new position because of the freedom he's been given.
"One of my favorite things about working here is that the program is still relatively new… this gives me a lot of ability to shape the program into something great and to really build it from the ground up," said Turner.
Turner has enjoyed playing a variety of sports since he was in high school.
"I played baseball, golf, … a little bit of tennis… football was probably my favorite to play, even though I wasn't on the team," said Turner.
Because of this, one might assume that Turner always knew that he wanted to do something sports related. After leaving high school, however, Turner still wasn't sure what type of work he wanted to do.
"I went to college for a couple years, but it just didn't feel right, so I left to serve in Iraq… tried college again… then served in the army again, and finally I graduated from the University of Cincinnati," said Turner.
It was during his second time in the U.S. Army that Turner decided what type of job he wanted.
"I had a friend in the forces who was working in the [strength and conditioning] field, and he really got me interested in it," said Turner.
When he isn't working at Transy, Turner enjoys spending his free time with his family.
"Most of my time outside of work is spent playing with my kids or helping them with homework… if I have time without the kids I mostly spend it with my wife," said Turner. Turner does have several hobbies that he enjoys besides spending time with his family, however.
"I'll try almost anything… hunting, fishing, wood carving, sports… about the only thing I haven't done is yodeling," said Turner.
Turner also expressed excitement to work more with the athletes and to get to know them better.
"Right now I'm still getting to know the athletes and what level they're at," said Turner. "Once I get to know their strengths and weaknesses, I'll be able to push them harder so they can get where they need to be."