PumpkinMania has become a tradition that celebrates Halloween and the relationship between Transy's campus and the Lexington community. This year, the event attracted over 5,000 people, though PumpkinMania has not always engaged the community on such a large scale.
"The event was started about seven years ago, and it was kind of a grassroots effort. It started out as having staff and students come out and carve pumpkins; I think the first time they did it there were maybe twenty people. I believe they purchased their own pumpkins at the time, too. It eventually evolved into a much larger scale event for the entire campus," Helen Bischoff, Head of Public Services and PumpkinMania committee member said.
Since PumpkinMania has snowballed into a large community event, nearly every department at Transy assists in the event's creation and running. "The entire Department of Public Safety was tasked with shutting down Third Street to make sure the event was safe; they had liaisons with the Lexington Police and Sheriff Departments. Even though we had a fairly large committee, we still had to tap from outside resources. The Communications and Marketing Department, every single person in the department helped us. Every single person played an integral role in making the night happen," Bischoff said.
The Physical Plant Division is responsible for the behind the scenes preparation for PumpkinMania, including all hard labor. "That includes maintenance, grounds, housekeeping… they go through and place a light bulb in each pumpkin, they hang signs and set up tables and chairs. They do a lot of the running that people don't see. Even with our committee, we couldn't do it without their department; they play such a huge role," Bischoff said.
Student organizations are also heavily involved in preparing for PumpkinMania. This year the sisters of Alpha Omicron Pi, the sisters of Phi Mu, and the brothers of Kappa Alpha Order deconstructed all 450 of the pumpkins for carving. "They helped unload the 450 pumpkins from the pallets, helped identify if they were already rotted and weeded those out of the pack, and they topped all of the pumpkins. They also helped with power drills to hollow out the pumpkins. They did a lot of messy work. Many of them stayed for 6 to 7 hours," Bischoff said.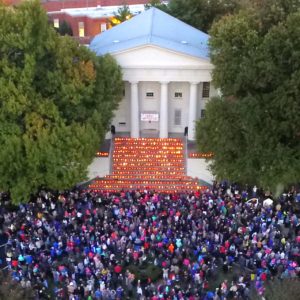 As the event has grown, more community groups have become involved in PumpkinMania. Habitat for Humanity, the Lexington Police, Fire and Sheriff's Departments, L'Escalade Fitness, the Lexington Legends Kids Club, and the Lexington Public Library were all in attendance. Surrounding public schools are also involved, as Maxwell Elementary students carved 75 more pumpkins to be included on the steps of Old Morrison.
This year's PumpkinMania also grew in food and entertainment. Food trucks and tents such as Doodles, Red State BBQ, West 6th Brewery, and Jasmine Rice attended, which "Parents seemed very happy with," according to Bischoff. Some vendors were overwhelmed with the number of people who attended and ran out of food quickly. The cashier at the Jasmine Rice truck yelled out to her hungry customers "We have no more food! Thank you for wanting to eat it and being patient!" and proceeded to take a long slug out of a can of Budlight.
A local band, Superfecta, also performed at PumpkinMania, attracting even more community members. The Transy Dance Team also performed a quick dance to Michael Jackson's Thriller, a Halloween classic that engaged the audience huddling around the steps of Old Morrison.
Once the pumpkins were lit, the crowd cheered and pushed their way to the front steps to hopefully snap a quick picture, but were interrupted by an abrupt blackout, delighting all the pumpkins. The blackout occurred twice and was most likely due to a power surge. The Physical Plant division is already looking into more energy efficient options to prevent any future blackouts."They are already looking into the cost of LED bulbs which would prevent that kind of issue in the future," Bischoff said.
PumpkinMania has continued to connect the community and campus in a festive and bright manner, regardless of random power surges or a lack of Thai food."This is one of the biggest events we do for the community that is free. It connects us with the community like no other event does. This also gets people on the campus that would have never walked on campus before. It gives access to our immediate surrounding community," Johnnie Johnson, Director of Multicultural Recruitment and PumpkinMania committee member said.
"It gives people an opportunity to come on campus and get to know us and for us to get to know them," Bischoff said. "I had no idea people considered it a tradition, but it has become that."