Parents, students, and athletic staff gathered on October 14 for the dedication of the John and Donna Hall Softball Field. The field was dedicated to John and Donna Hall, the lead donors who contributed to the new facility. John Hall was a Transylvania trustee and is dedicated to supporting scholar athletes, while Donna Hall is praised for her commitment to education. Together the two personify this year's academic theme, Live Generously, according to Holly Sheilley, Director of Athletics and Vice President of Enrollment and Student Life.
"The Hall's embody these words, not just with their finances, but in who they are. Having our facility named in honor of these two individuals, who have lived their lives giving their time, talent and treasure speaks volumes into what we hope each Transylvania student is and becomes. I feel humbled and honored to have Transylvania University and Athletics associated with your names," said Sheilley.
The revamped facility includes new dugouts, home and visiting bullpens, batting cages, a drainage system, an expanded seating area and a new scoreboard and sound system. The renovated field offers new advantages to the softball team, according to team captain Renae Morton.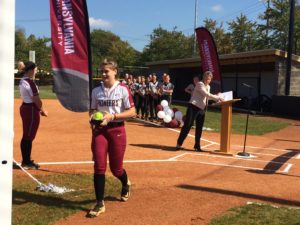 "This field means many different things to those of up gathered here today. For some, perhaps it is just another softball field. To others, it is a monument. But to the girls who play on it, it is really the only diamond that matters," said Morton. "The Hall's have blessed this university with something that cannot be bought: the opportunity for a group of women, otherwise unrelated, to become a family through playing a sport they love."
The impact of the renovated field will not only affect softball players, but also Transy's athletic standing as a Division III school. "As the lead donors for this soft ball field, their impact will be felt for generations of softball players to come. Now, because of this field, softball is perceived as an important aspect in the Transylvania experience. Not only is this the best softball field in our conference and in our region, we Transy players are certain that the John and Donna Hall Field is the best ballpark in the Division III softball world," said Morton.
A traditional ribbon cutting ceremony followed after the various remarks from the student representative and staff. To conclude the dedication, the ceremonial first pitch was thrown by John Hall and caught by sophomore Janelle Hynes. John Hall finished with a rush of appreciation, saying thank you to those who spoke so highly of him, and a simple concluding statement: "As Transy goes, so does Lexington. A stronger Transy makes for a stronger Lexington."