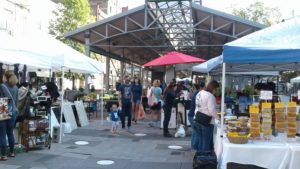 In this day and age, where our food comes from is just as important as how we prepare it. And nothing says 'healthier choices' quite like a farmers' market. Fortunately, here in Lexington, there are great opportunities to visit and get involved with local farmers' markets.
​Picture this: you wake up on Saturday sometime between 7:00 AM and noon, and take a walk down to Cheapside Park in Downtown Lexington. Part of West Short Street is blocked off to accommodate all the vendors at the Saturday Farmers' Market. You grab a coffee from either Cup of Commonwealth or the Cherry Seed Coffee Roastery, both of which have stands of piping hot coffee (and sometimes pastries). You tour the booths. You try some free samples.
The Farmers' Market has a bit of everything for everyone. Even if you're not into your standard green vegetables, you can buy some potatoes and make some homemade potato chips in your microwave. Just slice the potatoes really thin, drizzle with olive oil for a healthier alternative to butter, and stick them in the microwave for 3-5 minutes. Sprinkle with salt and whatever spices strike your fancy. It makes a great snack and tends to be healthier than options at the store. (Just remember, they are still potatoes, and therefore they are packed with sugar and starch.)
​If you're looking for snacks you don't have to prepare, the farmers' market has plenty of those too, especially as we move into autumn. Peaches are popular, and apples of multiple varieties will start arriving to the Farmers' Market in the next couple of weeks. They have apple types you have probably never even heard of, along with standards such as Golden Delicious and Pink Lady. If you have questions about the different varieties and what you can do with them, vendors are almost always happy to share their expertise. Some vendors, such as Quarles, sell over 20 kinds of homemade breads and several jams. Others, such as Green Acres of Paris, sell pre-made meals and seasonings. Their absolutely scrumptious pasta salads require no preparation, and they sell homemade dips and dressings for any occasion.
For the non-vegans among you, local-made cheeses are a year-round treat at the Farmers' Market. If you feel up to making scrambled eggs or something with meat, there are vendors who sell anything from eggs to prime cuts of beef. Many advertise grass-fed livestock, whose meat is free of antibiotics, steroids, hormones, and lactose. This meat is natural, and fresh— it's perfect for cooking.
You'll have to keep in mind that allergy season is coming up. A great way to lessen and even stave off allergy attacks is to buy local honey. Since local honey is made by bees who pollinate local flowers, the honey exposes your immune system to some of the natural allergens around you. This way, your body is prepared for when your allergies attack in full force. Putting a bit of honey in your tea or using it as a condiment is a great way to prepare yourself while also being a little bit healthier.
However, a concern that many people express, and that I share, is the fact that the Farmers' Market food might be more expensive than at the main brand grocery stores. While this can be the case, the Lexington Farmers' Market is able to help those with unstable financial situations. They can double the amount on shopper food stamps, up to $20, and they also process SNAP benefits from EBT cards. And if you are low on cash, the Farmers' Market can also give you spendable tokens by taking money off of credit and debit cards.
The Lexington Farmers' Market offers so many opportunities for so many people. Buying fresh, local food is a great way to stay healthy and support your community. The Farmers' Market is open four days a week in varying locations. On Tuesday/Thursday it is at 399 South Broadway. On Wednesday it is at The Summit. On Saturdays it is at Cheapside Park, the only year-round location, and on Sundays you can find it at 398 Southland Drive.
Try it, and see for yourself how it tastes.
Learn more at www.lexfarmmkt.com.