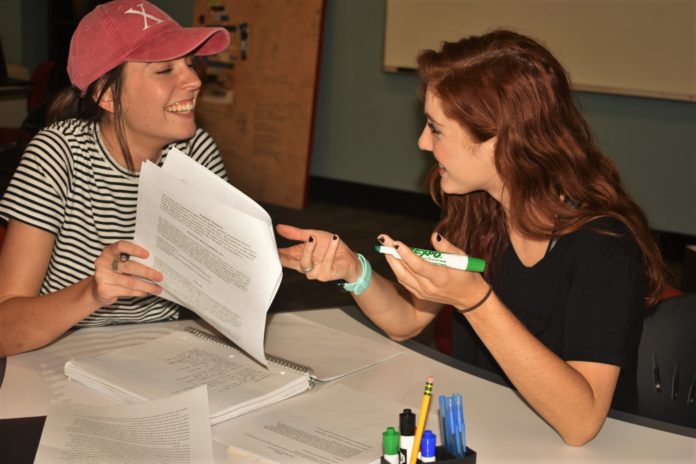 Since the early 80s, the Transy Writing Center, founded by retired professor Martha Gehringer, has stood as one of Transy's most resilient programs for student success. Holding true to its values of assisting students and faculty in developing research, writing, and presentation skills, the Writing Center has proved adaptable to our ever-changing campus and world.
Dr. Scott Whiddon, the current Director of the Writing Center, and Program Director for Writing, Rhetoric, and Communication (WRC) has continued to grow the Writing Center since joining the Transylvania community in 2006. He describes the program as "a student support space and faculty development space in which we work with university students and faculty members at any stage of a writing process, from brainstorming to development to creating revision plans to end of process reading."
Due to the success of the program, the Writing Center was awarded the 2018 Martinson Award for Small Liberal Arts College/Writing Program Administration. The award was granted in recognition of the dedicated staff, as well as increased involvement with faculty. Additionally, bestowed by the Southeastern Writing Center Association, the Writing Center recently accepted the Christine Cozzens Research and Initiative Award. It served as acknowledgement of research in student writing development carried out by staffers and Dr. Whiddon.
While enthused by the Writing Center's national recognition, Dr. Whiddon says he is most excited about the program's new location in the basement of the Transylvania Library, which was renovated for the Writing Center's use over the past spring and summer. "I walk in here and I am so happy to be here everyday," Dr. Whiddon said.
Strategically redesigned with student's needs in mind, the new space involved constructing a wall to create a separate room for students and staffers to discuss sensitive topics regarding their work. The space also can accommodate those who desire a quiet working environment. Other additions include manipulable furniture, white board tables and media screens that allow for practicing presentation skills. "We can manipulate that space to do all kinds of things," Dr. Whiddon said.
As part of the program's goal to increase accessibility to writing assistance, the Writing Center leads a number of in-class workshops throughout campus, allowing for more faculty involvement. "I think faculty members are now seeing that instead of having the Writing Center be a space apart from the classroom, that the classroom and student supports are significantly intertwined," Dr. Whiddon said.
Senior Writing Center staffer Laura Daley also expressed excitement about the increased number of appointments and in-class workshops being scheduled. "We already have over thirty in-class workshops scheduled for the semester when last year, the entire year, we had fifty, so we're already surpassing the amount of involvement that we had last year," Daley said.
In Daley's opinion, much of the growing interest in the Writing Center can be attributed to the new location. "It feels like a more cohesive space. I really like the white board tables," Daley said. "You can use the whiteboard and still have that kind of engagement with the student you're having an appointment with without standing up and writing on a white board and feeling like you're teaching them." It might also be increasingly beneficial to have a look at other whiteboard products that could transform normal free space into a whole whiteboard, for example, click to learn more.
The Writing Center encourages all students to schedule appointments, despite what level writer they may consider themselves. "I think part of becoming a good writer is being open to other people's reactions to what you've written and being open to suggestions that other people have, to make it the best it could be," Daley said.
"Scott [Dr. Whiddon] always says, 'Good writing is never finished, only due,' because you can always improve what you've written, no matter how good you think it is," Daley said, referencing Dr. Whiddon.
Some students might show hesitancy in going to the Writing Center. Daley "hope[s] that any negative stigmas around going to the Writing Center because you need help will kind of continue to dissolve because there shouldn't be a stigma" in seeking writing assistance.
As a Writing, Rhetoric, and Communication senior, Daley consistently makes Writing Center appointments with her peers. "It's just really really helpful to talk out your ideas and to get another pair of eyes on your paper," Daley said.
Both Dr. Whiddon and Daley convey great zeal in considering the future of the Writing Center. They encourage students and faculty to make appointments, as well as join events.
---
In partnership with The Transylvanian, Transy's literary magazine, the Writing Center will hold an open mic gathering on the evening of October 12 from 7:00 pm until 8:15 pm.