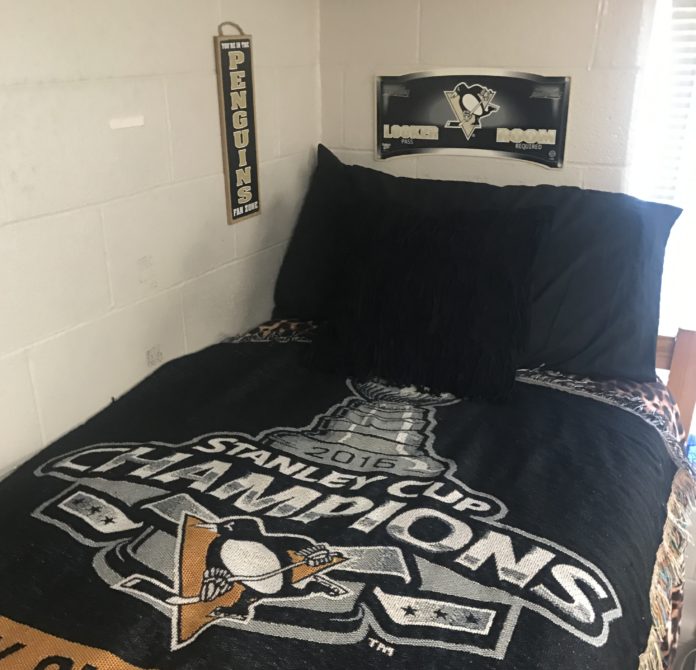 No matter the sport, there are always huge numbers of fans dressed head to toe in their team's colors yelling and cheering on the team. Some fans even go so far as to get custom team warm ups, hoodies, and t-shirts printed in the colors of their favorite team. In Lexington, it's impossible to go anywhere without seeing a reference to the UK Wildcats but, in such a big college town, there are people who come from different states and support different teams.
One of these out of state students is sophomore Collin Ruegg from Columbus, Ohio. "Well during football season, as an Ohio state fan, I'd compare it to being that one kid on the monkey bars who was the only one who could skip a bar and completely clear it. Also, living here with UK fans, it's easy to become accustomed to the phrases 'I can't wait 'til basketball season' and 'bro if we played y'all in basketball we'd crush you.' And during basketball season it's a non stop charade of U.K. Fans being super over the top and bringing your own team (in my case Ohio State) into the conversation of explaining why they weren't going to win a title or why another team's player is clearly better than theirs. All love to my friends who are UK and UofL fans though," he said about supporting his hometown team.
I am also an out of state student and as a 100 percent Pittsburger, I can honestly say UK has never really been on my radar. The UK vs. U of L wasn't a big deal but, when Pitt and Penn State played the city shut down. This also carried over to professional sports, coming from a city fresh of a Stanley Cup championship to a state that has not produced a professional hockey player was definitely a huge change.
While it's expected for out of state students to support their home teams, there are still some who choose to go against their home team. When asked about supporting an out of state team, junior Ty Alderman said "It's weird, for sure. I grew up in Kentucky, so I am still a UK fan but I am a much more loyal Texas fan. When UT and UK play each other I always end up catching a lot of trash talk from all of my friends because they know that I am rooting for the "other" team. There's almost nothing better than running into another Texas fan here though."
While it may be harder to support teams when you don't even live in the same state, that doesn't matter to most fans. If it means driving a few hours to see a game, listening to it on your phone or even just checking the highlights, fans will do what it takes to support their team.