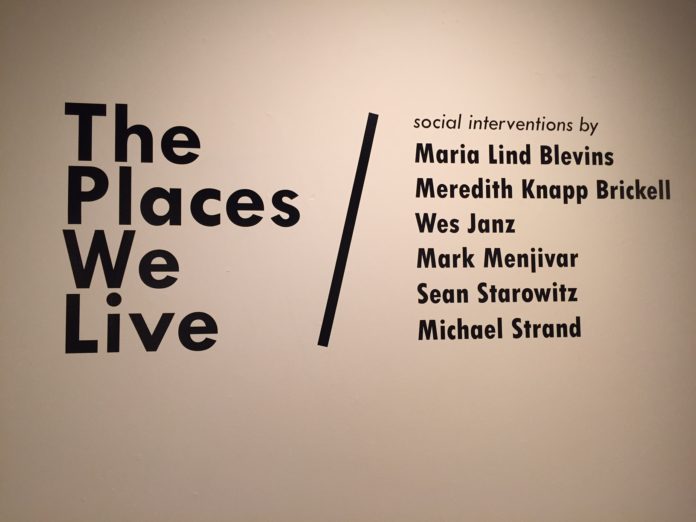 The most recent exhibition at the Morlan Art Gallery provides a social commentary on many important issues that plague modern society including mass incarceration, the role that religion plays in promoting justice, and the future of the Appalachian region, among others. Each piece of art makes a statement about a social problem and in doing so allows the viewer insight into what it means to live in a place and to fully engage in its community. In the same vein, each artist conveys a unique perspective through social practice art, which is an art medium that incorporates aspects of social life and encourages collaborations between individuals, communities, and institutions.
Transylvania professors Kremena Todorova and Kurt Goehde invited social practice artists, which should come as no surprise since Goehde and Todorova are the masterminds behind the "Unlearn Fear + Hate" campaign. Dr. Todorova explains that she and Professor Goedhe, "chose various artists for the ways they engage various communities and use art to connect and heal. Their projects have involved working with church-goers, girls who live in undeserved neighborhoods, rural folks, and many others demographics.Through this they draw attention to issues at the core of our contemporary life: poverty, mass incarceration, race and race relations, our inability to talk across party lines, and many others." These artists include Maria Lind Blevins, Meredith Knapp Brickell, Wes Janz, Mark Manjivar, Sean Starowitz and Michael Strand.
Lexington based artist Meredith Knapp Brickell came up with the idea for the zines, which the Busy Bees created and helped to organize the project alongside Busy Bees leader, Felice Salmon. This after-school program consists of a group of girls from the north Lexington area; their experiences out and around their community are detailed through photographs they have taken, and observations about the spaces they live in are described in the zines. A free copy of the Busy Bees zines are available near the entry to the Morlan Art Gallery.
Artist Maria Lind Blevins' pieces on the ties between women and the braiding of hair shows how this tradition brings women together including a time lapse video on different braiding styles. Artist/activist Michael Strand focuses on the impact that religion has on individuals and their communities. He accomplished this by writing letters (which are on display in the gallery) and examining various religions. Strand also took photographs of a Christian pastor, a Buddhist monk, a Jewish Rabbi, and Muslim individuals. The representation of each religion is significant to the theme of togetherness that is woven into—and frankly
essential to—each religion.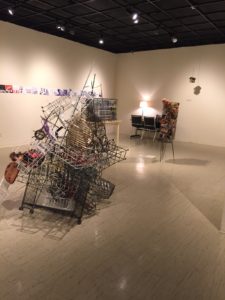 The pieces by Sean Starowitz are centered on Appalachian people, how integrated coal is within the daily lives on Appalachians, and where younger Appalachians see the region in the year 2027. Starowitz opens a dialogue called the D-LAB, in which he partnered with The Appalachian Media Institute, the Appalshop Archive, and next generation youth leaders from Eastern Kentucky. He has included drawings of three specific buildings that can be seen on several Eastern Kentucky byways, as well as a video of former coal camps in the counties of Lynch, Jenkins, and Bedham. Mark Menjivar's piece, "My Sadness Goes On and On," is a collective piece that compiles sad songs in order to promote individual expression and how essential it is to allow oneself to feel things that are not altogether pleasant. A chair is provided next to a set of headphones that is tucked in a corner of the gallery to ensure that the viewer has privacy when listening to the sad songs.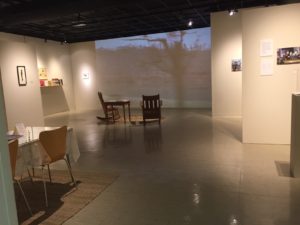 The artworks by Wes Janz are thought-provoking about the fact that mass incarceration is a system that profits based on the number of people within prison systems. One such piece incorporates the popular comic-turned-television-special icon, Charlie Brown. Janz has found twenty-eight different men that are behind bars, all named Charles Brown. He shows this in his work by setting up a line of Charlie Browns all facing one direction. His other artworks include Barbies and other figurines trapped in cages as each is supposed to evoke an emotional response about the mass incarceration problem in America. Each artist has something different to offer the viewer, but social justice issues exist within all of the pieces.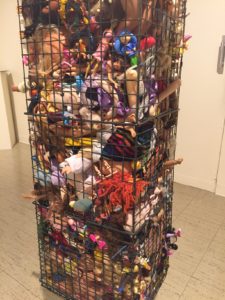 "The Places We Live" offers insight into what it means to be both from and part of a place. The importance of social practice art is shown in how it causes its viewers to think and process social conflicts that may seemingly affect one group, but in reality, social conflicts affect all of us. "The Places We Live" demonstrates how a society does and can connect its people through artwork. In the words of Todorova, "each of the artists makes art as a way of asking us to be fully human."
"The Places We Live" will be at Transylvania University's Morlan Art Gallery from February 21-March 29 (closed for spring break).