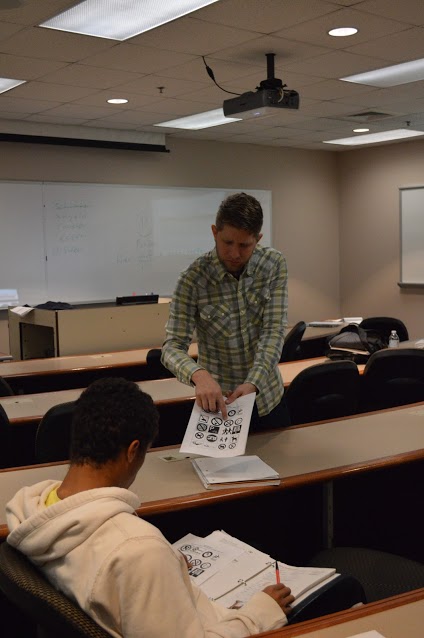 Transylvania is welcoming a multitude of new faculty and staff this year. There are a total of five new professors this semester, and over the next month The Rambler will be introducing each of them to the campus. This is a way for the members of Transylvania to become familiar with the new professors as well as to truly welcome them to the Transy community.
Just having completed his dissertation at the University of Minnesota in the fall of 2015, William Burwick is joining Transy as a professor of German. Burwick studied at Pitzer College in California for his undergraduate degree. He then received a Master's Degree in History from Humboldt University in Berlin in 2011. From there, Burwick went through various different programs for German Studies but after two programs were not working out due to the financial crisis, Burwick ended up at the University of Minnesota where he completed his studies.
This will not be Burwick's first experience with teaching, as he has taught at both Oxford College in St. Paul, Minnesota and at Scripps College in California.
Also, Burwick has been surrounded by teaching his whole life since both his parents were professors. His father was a professor of English and his mother was a professor of German.
"I grew up in a household that really valued education," said Burwick.
Although he did not intend to become a teacher, Burwick had experience with education throughout his life and found that the career allowed him to do what he had always wanted to.
"I didn't originally want to be a teacher. I liked the idea, I always had fun with it. I tutored in high school so it was always something I simply enjoyed, but it's something that I kind of accidentally fell into as time went on," said Burwick. "For me, I was just interested in ideas and interested in helping people. Those things just kind of came together through teaching."
As to the subject of German, Burwick's mother was German so he grew up in a bilingual household and was surrounded by German culture in many ways. His grandmother, who spoke no English, helped raise him and he travelled back and forth between the United States and Germany.
Burwick explained that travelling between the two countries, "I was always kind of in between things and I was exposed to German culture, German language, and the history of it all."
While teaching German, Burwick makes sure to integrate the different parts of German culture that he was exposed to and to give his students a similar experience when learning the language.
"The way I see it I'm not just teaching the German language, I'm teaching a little bit of all of that," said Burwick.
One course where Burwick prominently incorporates that is in his course The Wall Falls. He describes it as a "hybrid course" of sorts since it informs students about a great deal of German history and culture.
In terms of working at Transylvania, Burwick is most excited for working with students. As he explains, he is excited for "helping them make the discoveries that will help them become stronger, more worldly-prepared people."
Since Kentucky does not have a prominent German heritage-base, Burwick is also excited to reach out to students and invoke interest in the German culture.
"I think one of my challenges here is really to help reach out a little bit into the community and into the student body itself and try to find ways to expose German to different students who might not have thought that this was something interesting to them," said Burwick.