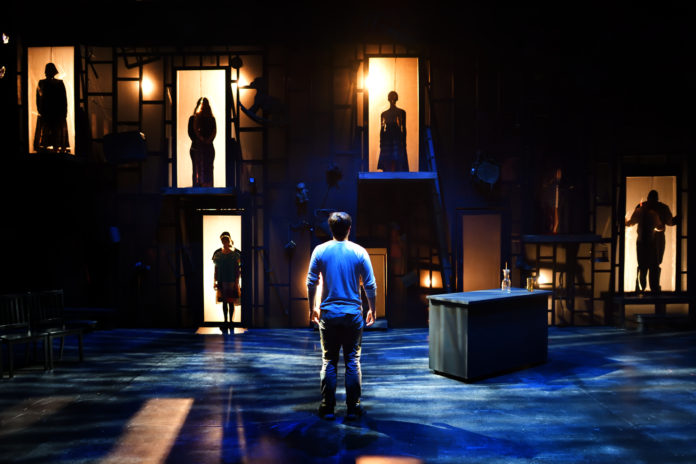 Last Thursday, Nov. 3, Transy's theater program premiered their take on Naomi Iizuka's play, "Anon(ymous)." On its first weekend the play "reserved out" (because admission is free) each night with the house full Thursday and Friday nights and 90 percent full on Saturday night. The play will continue to run this coming weekend, starting on Thursday, Nov. 10 to Saturday, Nov. 12. Each of these upcoming performances have already been "reserved out," but students who'd like to see the show and don't have a reservation can arrive at the box office up to an hour early and add their names to a waiting list.
"Most people on the waiting lists last weekend did get to see the show" said Dr. Michael Dixon, the director of "Anon(ymous)."
Anon(ymous) retells Homer's Odyssey through modern-day refugees.
"The play is about the journey of a young displaced fellow, who finds himself as a refugee as he flees a war zone and the adventures he has, which are inspired by the adventures Homer wrote about in 'The Odyssey,' so he's like a modern Odysseus and he has a lot of curious, mythical encounters in the modern world before finding what he is searching for," Dixon said.
The play's main character, Anon, who is created in regards to Odysseus, is played by junior Aaron Botts. Throughout Anon's journey he is searching for "home" in a series of misadventures that lead him to encounter many different people from all walks of life. However, Anon can not go home.
"So, 'what is home when you can't go home?' is one of the questions the play asks," Dixon said.
The cast and crew started working on the play before the school year even started because the set is one of the biggest that the Transy Theater Program has created.
The set which has to bring to life many different aspects of what life looks like on one stage with many diverse scenes was a challenge to create.
"It took a number of iterations to arrive at what this gigantic world is because the play takes two directions: it follows him forward on his adventures, it involves travel on the ocean, in boats trains and trucks, but it's also a journey internally into who he is now because he doesn't have a place anymore," said Dixon.
Dixon said they chose this play because "it is a great combination for an academic setting, the students can bring what they study in terms of classical literature, their knowledge and interest in that field to their project. But, also their interest in what's going on in the real world and in the moment. There are 65 million displaced people in the world and this play addresses what that experience is like."