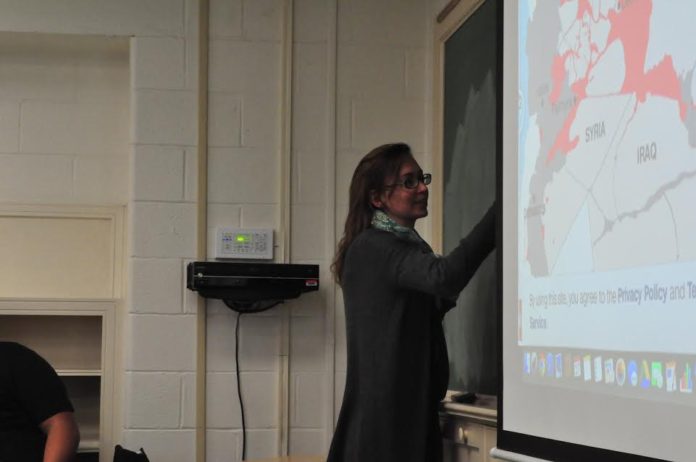 Transylvania is welcoming a multitude of new faculty and staff this year. There are a total of five new professors this semester, and over the next month The Rambler will be introducing each of them to the campus. This is a way for the members of Transylvania to become familiar with the new professors as well as to truly welcome them to the Transy community.
Newest professor of political science, Nina Barzachka, is by no means new to the liberal arts or the small school atmosphere. Barzachka, originally from Bulgaria, went to high school in the United States and was highly encouraged to continue her college education here as well, especially at a liberal arts institution.
"There aren't really any in Europe," said Barzachka of liberal arts schools. "It's actually something really unique to the United States."
Barzachka attended Roanoke College where she double majored in International Relations and French. Barzachka was originally going to study art as well, but decided she did not have time. However, art is still a hobby and interest to Barzachka.
After Roanoke College, Barzachka attended University of Virginia where she received her Ph.D. in comparative politics. Barzachka worked as a teaching assistant there and eventually was able to teach her own class.
"It turned out that I really love it and it's a really good match for my personality. Starting graduate school, I wasn't sure that I wanted to be a college professor. I was considering going into non-governmental sector work. I considered going to law school, but I found that teaching is what I really need to do because it's such a good match for my personality," said Barzachka. "There's something almost accidental about how I found it, but now that I've found it as a profession I love it. I wouldn't want to do anything else."
Barzachka went on to teach at Mary Baldwin College and Gettysburg College before coming to Transylvania. She was drawn here because the small liberal arts school is similar to her own education, and also because the position was in her specialty of comparative politics.
Her interest in politics actually stemmed from experiencing political change as a child.
"When communism fell in Bulgaria in 1989, I was eight. I observed that process. There was a sense of surprise because everything happened really suddenly and really quickly. In the beginning you could even say there was a sense of disbelief. All of the sudden people were extremely interested in politics. Before that, nobody discussed politics, or at least they wouldn't discuss it publicly, but after that politics became everything," said Barzachka.
Although she was young when it happened, Barzachka actually remembers the experience very well. She explains that her family talked about it a lot at home. Her grandfather was very involved in local politics after the fall of communism and her mother and grandmother served as election observers. Barzachka herself worked as an election observer while working on her dissertation in Bulgaria.
She spent six months in Bulgaria "interviewing some of the politicians who participated in the decision making that led to democratization in Bulgaria as well as the people who decided what the rules for the first democratic election have to be."
Barzachka's dissertation was on how votes are counted for elections. Her current work is looking at protests in social movements, which she is incorporating into classes at Transy with her FYRS class (First-Year Research Seminar) and May Term course.
Barzachka has enjoyed working here so far and is excited to continue.
"This is a great place to work. The students are wonderful, they're very smart, and they read. I've noticed they do the work and they're ambitious. It's a real pleasure," said Barzachka. "The faculty and the staff have been really welcoming. It's been a very smooth transition for me."