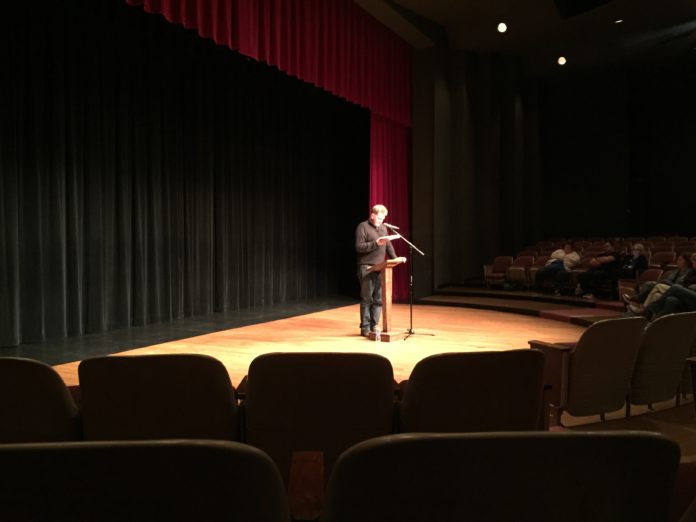 Each year, Transylvania University brings in a Delcamp visiting author to share their work with undergraduate students. This year, the visiting author was Appalachian writer Robert Gipe.
On Thursday, Oct. 27, Gipe spoke about his graphic novel Trampoline in Carrick Theatre. His novel takes place in a coalfield county in Eastern Kentucky and is illustrated with his own black and white doodles. Gipe currently resides in Harlan, Kentucky. In fact, he was recently named the Harlan County Educator of the year.
Maurice Manning, professor of English as Transylvania, introduced the first speaker of the evening as an academic woman who is extremely knowledgeable about the field of contemporary Appalachian literature as well in the know regarding new genres of literature, such as the graphic novel. Marianna Worthington is currently a professor of communication as well as the Co-Founder of an online journal called Still: The Journal. Worthington introduced Gipe as "a true protector of Appalachian people, culture, and language," which is especially true of his graphic novel Trampoline.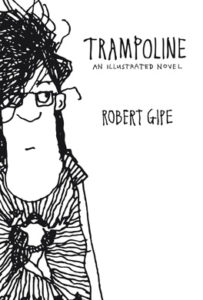 According to Worthington, Gipe's novel has managed to take the language and stories of contemporary coalfield residents and put them into words in a fictionalized documentary. Furthermore, Worthington reminded the audience that the illustrations in the graphic novel are a vital part of the story and that you can't read Trampoline simply by looking at the prose. Finally, she explained that in Appalachian storytelling it is common for the narrator to be a female. Staying true to Appalachian tradition, Gipe's narrator is a 15-year-old girl from Eastern Kentucky.
Gipe filled the room with his dry humor from the moment he stepped onstage. As he prepared to read an excerpt from Trampoline, he assured us that he'd make it quick because, "I have to finish my new book by Thanksgiving."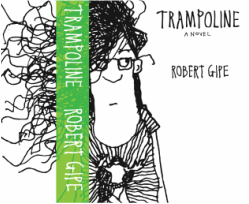 As he read from his novel his deep, southern accent brought the book's characters to life. Hearing the character's voices as they're supposed to sound out loud made the story seem natural, realistic, and relatable. When he finished, he shared information about his new book, Weed Eater, which is about the same characters but set in 2004.
The main character of both books, Dawn, is a realistic and relatable character. She doesn't have a filter and says exactly what she's thinking, which often includes obscene language and insults directed at those around her. The audience burst into laughter when the character of Dawn said she was, "thinkin' about how the world was my g*ddamn oyster."
Check out Gipe's novel Trampoline to hear from a relatable and comedic narrator who doesn't take her life, or herself, too seriously. His next book, Weed Eater, will be released in the spring of 2018. Until then, you can read about Robert Gipe and his work on his website.