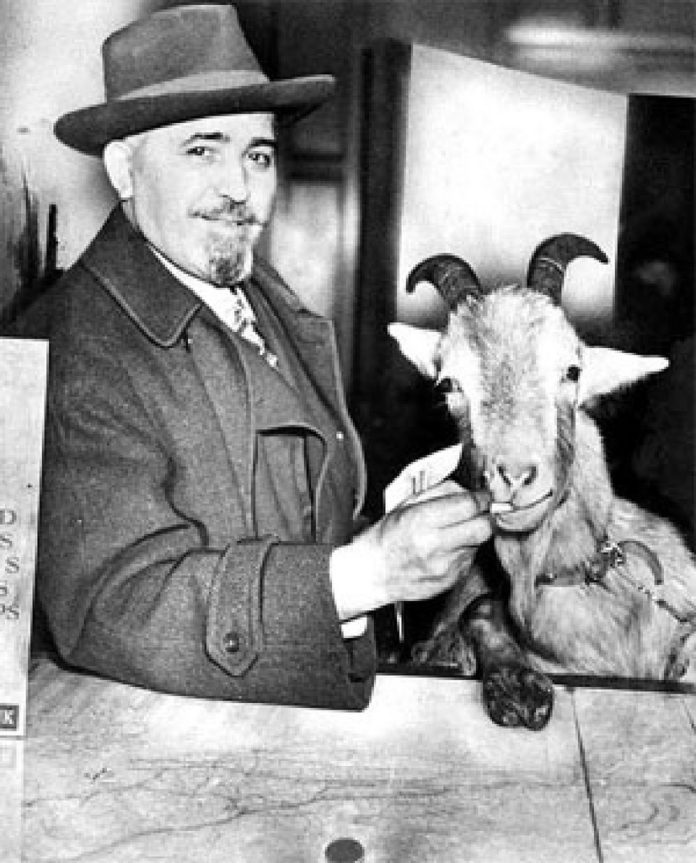 (Above: The man who cursed the Cubs, Billy Sianis, and his pet goat.)
Sports have deep roots in superstition, as interesting a connection as that may be. Athletes often put stock in rituals that some might deem somewhat silly. We've all heard our granddad who played peewee football with slightly archaic rules or our former high school hoops star aunt tell stories about superstitions they or their teammates had. Some of these stories can be rather spooky, while others are just down-right amusing to anyone listening on.
One sports tradition that is relevant currently is the application of curses, especially as a way of explaining teams who have failed to win a championships in a long time. In baseball, this phenomenon is especially common. It is fitting that the World Series takes place partly in October, because superstition is everywhere to be found in this year's matchup between the Chicago Cubs and Cleveland Indians. The Cubs have failed to win the World Series since 1908, but their curse–the Curse of the Billy Goat–was not extant until 1945 when Billy Sianis was asked to leave a World Series game vs. the Detroit Tigers because his pet goat's smell offended other fans. In response, Sianis placed a curse on his formerly favorite team, one which they have suffered from until at least 2016. However, the Cubs are looking to "reverse the curse" this year, as they play in the World Series against another team who have had a curse placed on them. According to some Cleveland Indians fans, the Curse of Rocky Colavito, onset by an unpopular trade involving the titular athlete, has prevented the club from winning a World Series for the last 56 years.
Perhaps American football fans are more familair with the Madden Curse, supposedly responsible for the subsequent decline in play or injury of the featured cover athlete, a trend that has been observed in years prior.
On a lighter note, pre-game rituals are a part of many athletes' mantra, and they tend to invade every sport in some form or another. Michael Jordan always wore North Carolina (his alma mater) shorts under his Chicago Bulls shorts, and Corey Perry of the NHL's Anaheim Ducks attributes some of his success to an eight-step ritual he completes before every game.
Of course, superstition is present among Transy's student-athletes as well. First-year lacrosse player Katie Smith said, "I have always worn my hair in a braid during games. I guess since it is a familiar feeling, it helps calm me and makes it really feel like I'm in the game."
Muhlenberg County High School athletic director Jerry Hancock recalled some habits of his playing and coaching days: "I would eat a grilled chicken sandwich before every single game when I was playing, and when I was coaching, I always wore the same red sportscoat with a 'Takin' Care of Business' pin I got at Elvis's Graceland. Regardless of whether I was playing or coaching, I made sure to use the far left urinal before the game began."
Both of the superstitious athletes touched on the consistency of their respective rituals providing a sense of calmness for the game.
In contrast, Transy sophomore golf player Jenna Soderling said, "I don't like to rely on superstition when I'm playing golf at all. I work really hard at my game, and I prefer to trust the practice I put in."
In reality, there is no way to verify any superstition associated with sports, but it is nonetheless a fun and sometimes spooky topic to discuss among athletes.