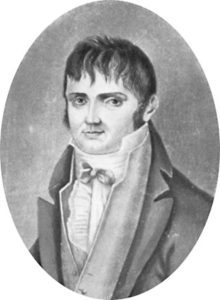 For those of you who aren't aware, the Rafskeller isn't just a random Sodexo name for a dining facility. The Raf actually gets its name from Constantine Samuel Rafinesque, a man who became a professor of Botany here at Transylvania in 1819. Although Rafinesque was not particularly well liked in both the botany world and at Transylvania. As a result, he was fired in 1826. When Rafinesque left the university, rumor has it that he placed a curse on the school.
Not surprisingly, this so-called curse didn't gain much attention. However, when university president Horace Holley died shortly after firing Rafinesque and Old Morrison burned to the ground, people began to appreciate the curse. Supposedly, the university feels the affect of the curse every 7 years.
Unfortunately in 1840, Rafinesque died of cancer while living in Philadelphia. Surprisingly, in 1924 the university attempted to bring his remains back to the campus, a move some people say was intended to pacify the curse. However, when Old Morrison burned down again in 1969, every room except for the one with his tomb was destroyed. Sadly, in the 84 years between his burial and the move to Transy, three other bodies were buried on top of his.
Today, it is believed that the remains that were moved into the tomb in Old Morrison actually belong to a woman named Mary Passimore. The curse of Rafinesque is still alive on Transy's campus as students enter into a yearly raffle for the opportunity to spend a night in what was supposed to be his tomb as well as participate in Raf week during the days leading up to Halloween.
This year the raffle will take place during the Trippin Roots concert on Thursday, Oct. 27 from 8-10 p.m. Winners will be picked during the concert's intermission and they will be able to choose when they would like to stay in the tomb for a night. Be sure to stop by for your chance to be one of the few who have spent a night in the tomb of Rafinesque!