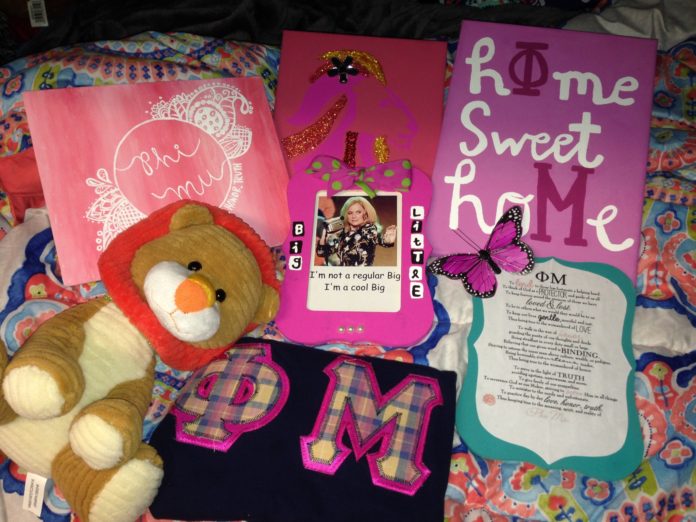 Dear (Future) Big,
I'm going to start by saying thank you! I may not know who you are yet, but I already know that you are going to be the best thing to happen to me and I can't wait to do life with you. I hope you're ready for it!
I can't even begin to tell you how excited I am for our BIG reveal! Getting my gifts today, reading my letter, and then seeing all my friends get their things was absolutely amazing. I'm so glad I joined such an outstanding sisterhood, and I cannot wait to finally figure out who my person is. I am already in love with you; I've always wanted a BIG sister, and I've been impatiently awaiting the day that I find out who you are since I joined Phi Mu!
I'm looking forward to movie nights, unexpected trips, late-night conversations, and always having someone to lean on and guide me. I'll go ahead and apologize, because I can be hard to handle, but I promise I'll be the best little you could ever ask for. Even though I think you're the one that is supposed to guide me, I want you to know that I will always be here for you, too, whether you're out at 3 in the morning needing a ride, or you just need someone to listen to you rant and guide you, I'll be here for it all. You will always have someone in your corner, rooting you on, and being your best friend even when you don't want it. I cannot wait for the incredible bond that I know we will have.
I'm already planning cute, cliché pictures to take with you, and scrolling through the endless stream of big/little things on pinterest. I am so ecstatic to have someone to help me through this crazy college experience, and I hope you're ready to add me to the pham.
You're in for one heck of a ride with me, but I can promise that although there will be plenty of weirdness and hard-to-handle situations, I'll always love you and make you laugh. I know you're going to be my absolute best friend and I hope to God that I end up being yours.
With tons of love and anticipation,
Your (Future) Little
P.S. Be prepared for trillions of snapchats, stupid texts, pointless stories, and me constantly asking to hangout because I can guarantee it'll happen, but hopefully you'll enjoy them just the same!