Sept. 1 of this fall was the first official day of Ms. Brittany Benningfield's position as Interim Director of Choral Activities. Benningfield agreed to fill the position after the previous choir director, Dr. Karen Cooksey, resigned because of health reasons three weeks before the start of fall classes.
As interim director, Benningfield said, "I lead both of the [choral] groups, I plan the repertoire for the concerts, if any kind of scheduling conflicts happen I am in charge of figuring out what to do with those, and I'm also still teaching private voice."
In the past Transy has had three choirs: one women's choir, Transy Singers; one men's choir, Pioneer Voices; and a mixed audition group, The Transylvania Choir. This year, however, Benningfield has decided to combine the men's and women's choir.
"The enrollment for the men's group was way down, for any odd number of reasons, so with that group we didn't really have the capabilities of doing like a barbershop quartet so the thing to do was to join the Pioneer Voices with the Transy Singers, because the women's numbers had fallen a little bit, but nothing like anywhere else," Benningfield said.
Despite the lower numbers, the choir program is rebuilding itself under Benningfield.
"Enrollment was at a low point, and she's already attracted some students back who had left," said Music Program Director Ben Hawkins.
For her new position as interim, Benningfield has set two main goals for the choir program.
"My number one goal is to rebuild community, and number two is to have the choirs sing exceptionally well," Benningfield said.
Dr. Hawkins and the rest of the music faculty also believed that Benningfield could and would grow the choir program.
"We all agreed, especially those who had worked with Brittany, knew of her expertise and her personal qualities and her strong relationships with the students. We thought this would be the best solution, given that we couldn't do a whole big search and everything, and actually I think a much better solution even than that," said Hawkins.
Benningfield has been hired on a two-year term and a full search for a permanent director will be during the 2017-18 school year.
"I would hope she would be interested [in the permanent director position], I think she would be a very strong candidate for that," said Hawkins.
So far Benningfield hasn't hit many major setbacks in her positions.
"You know, I keep telling the music faculty here how well everything is going, so I keep knocking on everything I can find because I know there's going to come a time when we're going to have just a bad rehearsal because that just happens everywhere… So I'm kind of ready to get to that so that we can get past it… There's a saying that if you have a bad dress rehearsal before a show you'll have a great show," Benningfield explained as she knocked on her wood desk.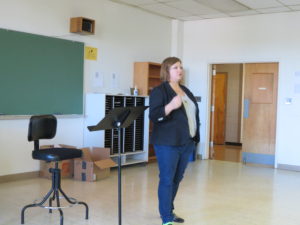 "I've had the sense that the environment is really positive and that students are learning and that they're enjoying what they're doing and I expect to see continued growth and improvement. I feel great about the direction we're going," said Hawkins.