This past week, actress Gwendoline Yeo visited Lexington and other regions of Kentucky. Yeo is known for voice acting several video game characters and for her roles in the television series General Hospital and Desperate Housewives.
There were multiple reasons for Yeo's visit, one being simply a desire to travel and have a break from life in Hollywood.
"I've always had a bit of a restless spirit," said Yeo. "Whenever I'm feeling a little bit depleted, travel has always been the answer."
She explained that she has a goal of visiting each state and after her visit to Kentucky, the number visited will be 48. This journey to travel in all the states is also the subject of her book she is working on.
Yeo described the book as being about "basically how traveling through the states has saved my life in a way."
In regards to coming to Kentucky, and specifically the Appalachian region, Yeo explained feeling a need to come and visit the region as well as the Christian Appalachian Project (CAP). After Yeo first heard of CAP, it has remained on her mind. She was drawn to find out how she could help the project.
"It all comes from the same place of telling my story and expressing pain and joy and all other feelings through art," said Yeo.
"I've always wanted to be attached to an organization at some point in my career," said Yeo. "I wanted to check it out. For whatever reason, I was just called here. It just felt like I needed to come."
Another visit on her trip really stood out to her as well: Johnson Central High School.
Yeo moved to the United States from Singapore when she was 11 years old. She described that from then until she was in college was a time of her life where she dealt with a lot.
"I think I felt most pain and insecurity from the age of 11, when I got here, to 19, when I was in college, because I was still finding my way," said Yeo.
When she visited Johnson Central, she felt a connection to the students because they have gone through struggles that she has and can connect to.
"I always felt like a bit of a freak, which was also my biggest asset," said Yeo. "So what I saw [at JCHS] were just mirrors of myself, which were people filled with warmth and love and complete strength and unabashedly straight up, and that's who I am. That was beautiful for me."
Yeo also had something to say in regards to college students striving for a career in the arts.
"I would say the biggest chip on my shoulder when I first got into acting was that I didn't go to school for it, that I didn't have a degree for it," said Yeo.
She continued to explain that she went to the University of California, Los Angeles and actually studied communications, stating that at the time, "I thought I was going to be a journalist."
Yeo's message to aspiring artists is that it's okay to have not professional schooling or a lot of training. That it can lead to being "over-techniqued" and having too much focus on "putting theory in practice instead of learning on their feet."
Although Yeo originally planned on a career in journalism, she eventually felt a pull to acting instead. She was drawn to the profession because "it was a place to turn pain into something beautiful, as an art."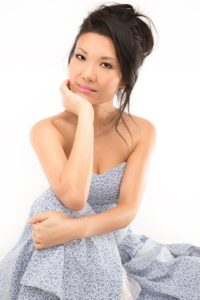 Yeo still has a passion for writing though, as is apparent in her current work to publish a book. Considering most book sales happen on Amazon these days, I imagine she will be exploring Amazon publishing, although this will all be very new to her. She explained that the continuous desire to learn and try new things is something she thinks all artists feel.
She referenced the American dancer and choreographer, Martha Graham, who said "No artist is pleased. [There is] no satisfaction whatever at any time. There is only a queer divine dissatisfaction, a blessed unrest that keeps us marching and makes us more alive than the others."
She continued to explain that for her, it's all about "leaping into the dark over and over again" and being brave in life choices. Regardless of what art she explores, Yeo always strives to tell her story.
"It all comes from the same place of telling my story and expressing pain and joy and all other feelings through art," said Yeo.