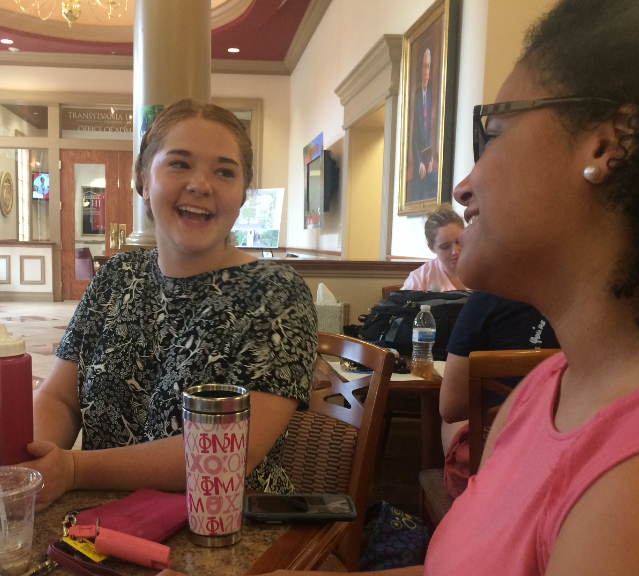 Last Thursday, a handful of girls from Phi Mu gathered together in the Caf for lunch. Sophomore Sarah Teasdale initiated conversation with a story about her lavender plants. After the conclusion of Teasdale's story, the girls around the table continued to take turns in telling stories while the others listened attentively. Regardless of the varying topics, each story included bursts of laughter from the storyteller and follow-up questions from their sisters.
Phi Mu's values are "love, honor, and truth" and is what really brings their chapter together.
Sophomore Amber Phillips described the organization as having a large variety when it comes to members. Referencing to herself and sister Presli Neal '19, Phillips pointed out how different members can be yet still accept each other completely. "We all like different things and have different values and dress differently, but it all comes down to we share the same values," stated Phillips.
Senior Allison Dwyer added that "having those shared values puts all of our differences aside."
Teasdale explained that although there is not one person that encompasses what Phi Mu is, "The one thing I have noticed in every single Phi Mu is when things really start taking a downward spiral, there is always someone there who will talk to you and listen to you and be there for you."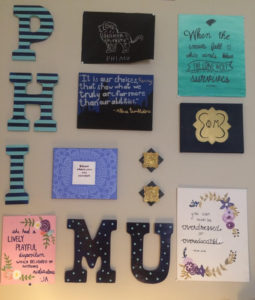 Support is a key factor in what unifies the chapter. Their dedication to comforting and supporting one another is apparent with their two support lions they have.
"If someone's having a bad day, you leave it for your sister," said Teasdale.
Additionally, the support develops fairly quickly. Sophomore Emily Chapman, while retelling her experiences of rushing last year, stated that she had an "instant support system" after joining Phi Mu.
Although there are a variety of personalities within the chapter, the sisters of Phi Mu continue to get along.
"We all genuinely like each other," said Neal. "We're all very loving of one another and accepting of everyone in the chapter."
The love between the various members is often expressed through sarcasm and sassy comments.
"We are a chapter powered on sarcasm," stated Dwyer.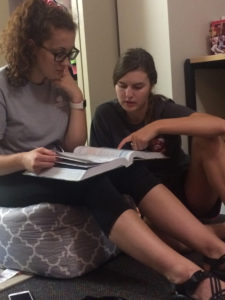 Dwyer additionally said that the members really "encourage each other to be really weird." Dwyer continued to explain the chapter's group message and the weird turns it takes. She loves knowing that all her sisters will always be there to listen to her no matter how weird what she has to say is.
At the end of the meal, the level of support and love Phi Mu contains was obvious. The members at the table bounced ideas off of each other on how they could cheer up a fellow member that was going through a rough time.