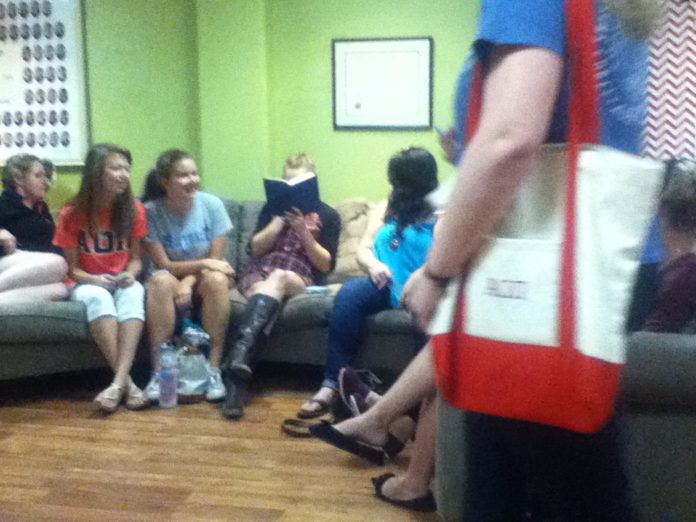 On a Monday night, a few AOII members gathered together on the couch and floor of their chapter room for a "Big Sister Workshop." Although pressed together in the small space, the group appeared relaxed as they listened attentively to the upperclassmen leading the workshop. As the meeting progressed, the qualities of a 'big' versus a 'good friend' were distinguished. The quality of the little being able "to lay on their [big's] floor and cry" was met with approval by the group. This "quality" is actually representative of the closeness, openness and support present within AOII.
"Last night I went to Morgan's room to get salt and the next thing I know I'm under her bed talking with her about life and Transy as a whole," said sophomore Nikki Fox. "We're all very open with each other and all of a sudden things happen like we go for one thing and end up staying for three hours…we're just kind of always there for each other."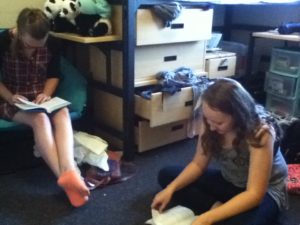 Earlier that day AOII sophomores Fox, Megan Schandel, Christine Phipps, Jessica Dunaway and Kay Wilson all clustered together in a Dalton-Voigt dorm room and shared stories about gallbladder removal, potential Halloween costumes and a panda puppet. Each story came equipped with gestures expressing emotions and humor at the expense of the storyteller.
The self-described sarcastic, but loving bond showcased between the members here was an aspect of the organization that easily stood out to these members before they joined. Although Phipps and Fox went through the different paths of formal recruitment and continuous open bidding (COB) respectively, both had similar responses to their early experiences with AOII.
"When I came to AOII, it's just like the love and the kindness and just the sense of humor and the kind of way we all talked to each other—I saw myself fitting in there and knew this is where I belonged," said Fox.
"There was something really personable about the AOII chapter and I really enjoyed that because it didn't seem like [AOII] was just trying to get members, it was trying to get friends and future sisters," said Phipps.
This idea of belonging was also of value for the other three members gathered. Schandel relayed how the AOII motto of "Individually unique. Together complete," to her, encapsulates the different people in the chapter, but also the chapter as a space for belonging or having one's "own place."
"We've had girls who are first generation college kids or they're representing different ethnicities or different struggles and different socioeconomic backgrounds and I feel like that kind of gives us something that a lot of people can relate to if they give us a chance," said Phipps.
This article is part of a series profiling Transylvania's Greek organizations. The series will be ongoing from Sep. 15 to Sep. 23.