While the library seems like a totally obvious place to study, realistically it isn't the best place to be if you're trying to get a lot of work done. More often than not, study sessions in the library turn into social gatherings and finishing homework ends up taking much longer than it should. And if studying in your room sounds like a good idea, think again. Trust me: your bed and the endless Netflix options will be too tempting. Use this guide if you need some new places to study this semester!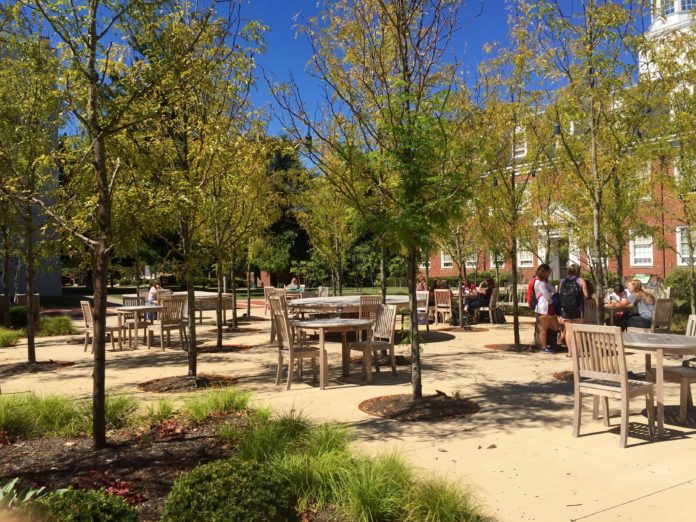 For some reason this area of campus is better for studying than the library. People tend to bother you less if you're working here. Granted, they may stop by to say hi but they typically go on their way after a couple of minutes. As long as it isn't blazing hot or freezing cold, this is a really nice place to sit and work if you like to be outside. There's plenty of shade and outlets so you can't sneak back to your room to charge your computer and watch three episodes of Grey's Anatomy.
2
Third and fourth floor of DV
It's a little complicated to study here unless you live in DV or have a friend who does, but the study spaces in this building are awesome. They have several tables and different seating options. There's also a printer in the building and a vending machine, so you really you should never have to leave until all of your work is finished. Be careful, though, because the only public restroom in DV is on the 1st floor, however you will need a key to get back up the stairs or elevator.
Rest in peace the 80, y'all. But even though you can't get a flatbread here, you can still study and write papers. It's a little less appealing without the gummy bears and iced coffee but hey, it could be worse. Thomson lobby has a lot of comfortable seating and it's a nice place to go if you just need a change of scenery. It's also open all the time, which is nice when we get deeper into the semester.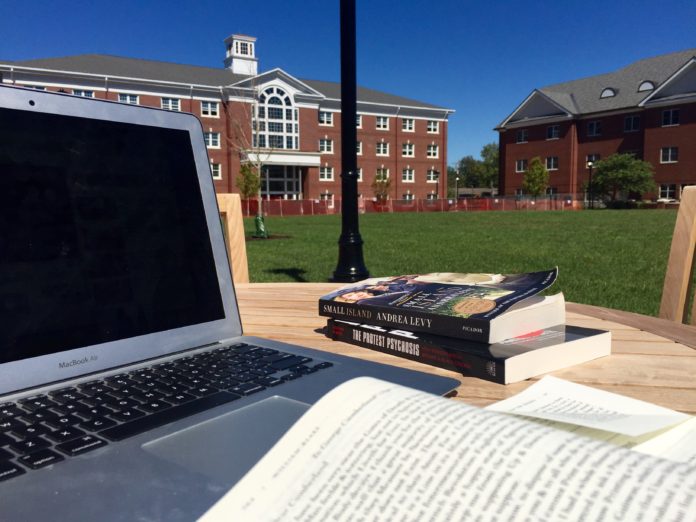 Listen up, first years. On behalf of all upperclassmen on campus, I invite you to make use of this space. We didn't have it last year and it was pretty depressing. There is a lot of seating around back circle, by DV, and by Thomson. Not only can you study out here, but you can also take study breaks by throwing around a Frisbee or hanging out with your friends.
If you're the type of person who needs a little background noise to concentrate, this is the place for you. There are always people in here, however at certain times of the day the crowd lessens. For example, around 3 or 4 in the afternoon you can study without people interrupting you. And, bonus, they serve coffee! Coffee is important when it comes to studying. You can also get into Jazzman's at night, which is convenient when you procrastinate writing long papers until the night before they're due!
This one may seem a little obvious, but believe it or not, this lab is usually empty. With the majority of Transy's students having their own computers, there aren't many people who use the lab in Forrer. There are also several tables without computers if you have your own. I recommend sitting in the very back corner where people can't find you for the maximum study benefits.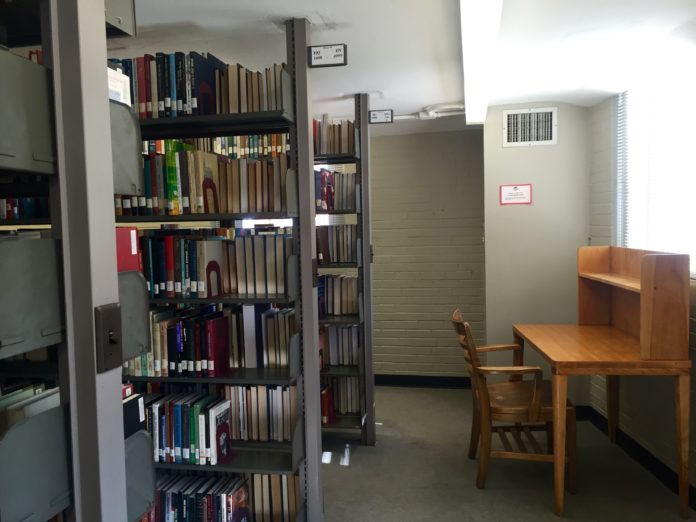 If you have your heart set on studying in the library but can't find any privacy, a lot of people swear by studying in the stacks. This is probably your best bet if you truly want to avoid people because it's a complete maze in there.
I think sometimes we forget that there is an entire campus center dedicated to students because it really is a nice place to study. There are several different seating options and tables. Furthermore, its never super crowded and there isn't a lot of traffic walking through there so you might find this to be the perfect study space – especially if you live in Forrer!
Okay, so hear me out on this one. I know it sounds silly but if you're a morning person, studying in the Caf during breakfast is perfect for you. It's a lot less crowded in the mornings and there are always people working in there. They also have an unlimited supply of coffee, so that's good too.
I'll put this one on here only because sometimes it's unavoidable. If you're writing a research paper or need help from a tutor in the ACE, the library is great. But, really guys, avoid the library at all times during final exams because it is always super crowded.