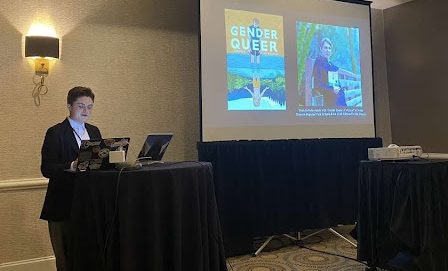 Transylvania was well-represented at this year's Southeastern College Art Conference (SECAC) in Richmond, Virginia. The conference is an opportunity for students and educators nationwide to exchange ideas and research in the arts. 
Professor of English Dr. Kremena Todorova presented in a faculty session titled "Teaching Under Protection from Discrimination and Woke Indoctrination," choosing to discuss a spring 2023 Community Engagement through the Arts (CETA) course which she team-taught with studio art professor Kurt Ghode. 
CETA's spring 2023 topic was "reading about and thinking about the histories of LGBT people in Lexington and Kentucky." Todorova went on to say the course took place when the Kentucky legislature "was passing bills explicitly targeting LGBTQ people. One bill was targeting drag shows, and unfortunately and terribly, these bills that were targeting individuals, they were passing through the legislature. So the class, in some ways, became a safe space for a lot of students." Her presentation at the conference highlighted "the different parts of the class that worked against that kind of hostile atmosphere," providing the example of Transy students making lanterns for an on-campus drag show last May.  
In the spring of 2024, Community Engagement through the Arts will work with the Locust Trace Agriscience Center, with students creating a 3D installation that tells the story of the school with the inclusion of the technique of felting using wool from Locust Trace's sheep.
Art History professor Dr. Emily Goodman presented in a session called "Ungrading in the Art History Classroom," sharing her paper, "Writing as Equals: Self-Assessment in Writing-Focused Art History Courses," which discussed the impacts of moving away from conventional letter grading to ungrading in her writing-intensive courses. 
Goodman commented on how they presented this shift in philosophy, saying, "I noted that this shift has changed the way that I respond to students writing—specifically that I have shifted into a coaching role as opposed to judging or ranking student's writing with respect to their peers' papers—and how the change has helped students to be more willing to be creative and take risks in their writing because they know that their grade in the course is not dependent on the final product of their papers."
Goodman continued, "I also discussed how this approach allowed for a more holistic view of student engagement in the class, which is ultimately more equitable and allows effort and growth to be considered in students' grades in the course."
Transy senior Art History major Em Spencer provided student representation, presenting their research on Maia Kobabe's graphic novel, "Gender Queer: A Memoir." Spencer began researching queer graphic novels for a paper in Dr. Goodman's Women in Art course, which sparked a curiosity for "why the graphic novel, and comics in general, are such a popular medium for queer artists to tell their stories." Spencer explained what they discussed during their SECAC presentation, saying, "I went into more detail within 'Gender Queer' itself and talked about gender dysphoria, examples of gender euphoria, and then, the author's discovery of asexuality."
Spencer expressed hope that other Transy art students get involved with SECAC throughout their time here. "It's a good introductory conference because it's very low stakes, there's a lot of breaks, and people are super friendly and open to new people presenting." 
On the experience as a whole, Spencer said, "It was really cool to talk to people and see how diverse the field is."
Students interested in presenting at SECAC next year can talk to their art professor and can even get funding to attend. According to Todorova, "It's about knowing that this option exists and talking to your professor to take advantage of it."