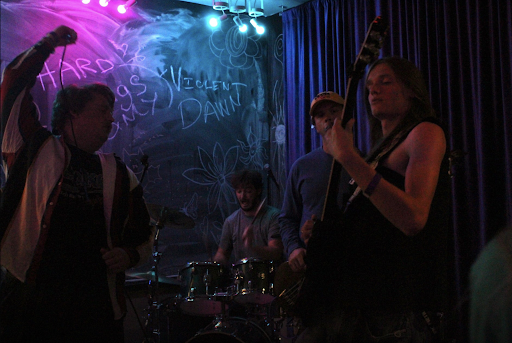 The local band composed of Transylvania students, Sphynx, has done it once again, rocking the night away on Friday, October 6th at Girlsgirlsgirls Burritos. Performing alongside two other local rock bands, Violent Dawn and Topsoil, Sphynx ended the lively night with a thrilling rock discography. Composed of vocalist Zach Drury, lead guitarist Jacob Ranzau, bassist Jacob Young, guitarist Bruno Sieber, and drummer Noah Hamblin – all class of 2024 – Sphynx is a hard rock band with loads of talent, and several new projects underway, some of which were introduced that night. 
As a part of their setlist, Sphynx introduced their new single, 'Phantoms,' playing it for the first time. The single will be released on Halloween, on both Spotify and Apple Music. Jacob Ranzau expressed excitement about the new single, commenting "It sounds bigger than our usual stuff." 
I further asked Jacob Ranzau how he felt about the new territory Sphynx is taking on. The band played a show last weekend in Bowling Green, and they have shows coming up out of state. Read on for an interview with Ranzau on the band's trajectory: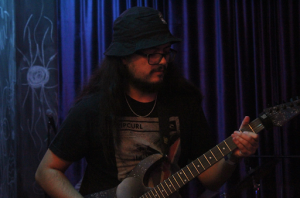 Caroline: Recently you all have been playing more shows outside of Lexington– how does it feel to be expanding the areas you play?
Jacob Ranzau: It feels pretty great to have the opportunity to play outside of Lexington and spread our music around. Not very many bands get the chance to do something like that, so it's very exciting. 
Caroline: Which shows are coming up, and what are you most excited about?
Jacob Ranzau: Our next two shows are in Lexington, and we're most excited for the Halloween show on October 29th at Girlsgirlsgirls Burritos. We've got some more out-of-town concerts planned after Christmas, so hopefully we'll be able to keep the momentum going. 
Sphynx ended the night with their song 'Atom Bomb,' off of their recent 2023 album Whispers. While this hasn't been their closing song their entire time as a band, it has recently been their favorite song to close with. They enjoyed the crowd's energy as they asked them to sit on the floor, preparing for a mosh pit when the song began. Between the bruises I gained from the mosh pit and the blood on the drums from when Noah Hamblin played with so much fervor, it was a terrific night for the band. 
You can listen to Sphynx on Spotify and Apple Music, and find them on Instagram @sphynxstagram_official.