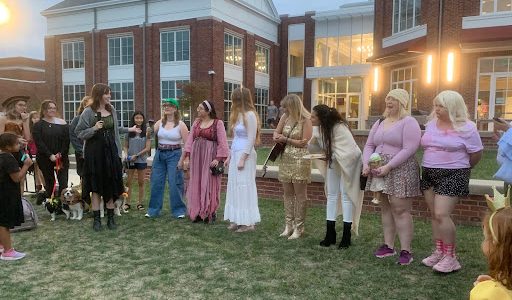 On Tuesday, October 24th, the Student Activities Board organized a night of trick-or-treating in Back Circle along with a costume contest hosted by TUnity. The second event celebrating Raf Week was a smash hit with a total of nineteen organizations handing out candy.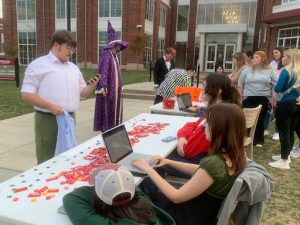 When asked about the candy they selected for their table, Tri Delta President Paige Catron said, "I'm a member of SAB and I set this up, so I looked for the candy that I liked and picked the bag."
TUnity's secretary, Mary Grace Welch, explained that their treats were actually part of their table decor, "We have a bunch of multicolored candy, and we think that can accurately represent us. Maybe that's too on the nose, but we do have a lot of Skittles at our booth." Visitors to the table could taste AND see the rainbow.
The English Honor Society, Sigma Tau Delta, was rumored to have the best candy. Alaysa Godfrey gave away their secret, saying, "To be honest, we just got lucky. The table already had this candy and we just saw it and were like 'This is gonna be the best candy so we're gonna steal this table.'" Katy Walsh elaborated, "And when you read a lot of books, it makes everything around you better, automatically, so…" 
SAB's Maria Hayes and Paige Catron both said their favorite costume of the evening was Maddie Goins as the American Girl Doll Kit Kittredge. Before voting commenced, Goins said, "I feel like I'm kind of a shoo-in to win the costume contest already…that's why I did dress up because I did want to win." Goins ended up winning the "Most Creative" award! Additional costume contest winners were announced on the TUnity Instagram (@transytunity)
A core issue of the night was finding out if Transy students were bucket or pillowcase trick-or-treaters as kids. Sunni Krohn and Allie Conover were both bucket kids, but Fallon Cross responded, "I was definitely a pillowcase kind of kid." On the reasoning behind this, Cross stated "You know I think I just liked getting more candy." 
The Rambler's own Grace Zimlich chimed in, adding another tally to the pillowcase carriers. When asked about parental rules on candy consumption, Zimlich shared, "My mom had a rule where we could only have five pieces of candy a day but it was up to us when we had them." Nate Brother, a firm bucket trick-or-treater, had fewer limitations, recalling "It was a free-for-all."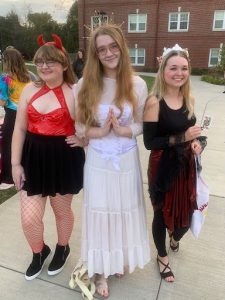 The event was an excellent opportunity to learn about upcoming happenings on and off campus. Ellie Thornsbury mentioned the cross country team has their conference championship meet on Saturday, the 28th. Go Pios! Additionally, the Conservation Action Committee has its first hike coming up on Saturday, November 4th. CAC President Megan Studer said, "We'll be going to Red River Gorge and it will be tons of fun!"
A fun bonus was hearing from Dr. Elizabeth Davis, our new visiting Assistant Professor of History. Dr. Davis recounted her spookiest occurrence on campus, "I'm going to go with the ghost who keeps changing the temperature in my office because I'll go in and the temperature will be set to something and suddenly it starts getting colder and colder and colder to the point where I'm wanting to curl up in a blanket. So I'm not sure if it's a sign that I spend too much time in my office or a sign that I've been welcomed onto Transy's campus." Definitely a Transy welcome!