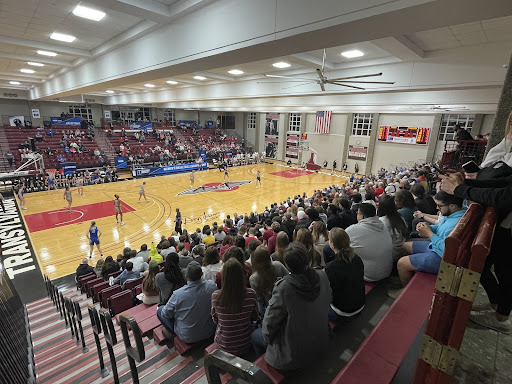 On March 4th, the #2 Transylvania Pioneers Women's Basketball team defeated the #15 Millikin University Big Blue in the Second Round of the NCAA Tournament, advancing to the Sweet sixteen for the second year in a row. The Pioneers also improved their undefeated record to 29-0, now the most wins in program history. 
The Pioneers opened the NCAA Tournament in the Beck Center on Friday the 3rd with a matchup against the Rhodes College Lynx, the SAA Conference Champion. The Pioneers would lead the low-scoring affair for the entire game, leading by 8 points at the end of the first quarter and more-or-less maintaining or slightly improving on that margin through the entire game. The key difference in this game, a 58-45 Transylvania victory, was the opportunistic Pioneer defense, with seven steals and 12 points off turnovers in the first quarter alone. The Pioneers were led by senior Dasia Thornton, who earned a double-double with a season-high 16 rebounds, and senior Kennedi Stacy, who led the Pioneers with 20 points. 
The Pioneers would be challenged further in the second round on Saturday the 4th, where they would face the #15 Millikin University Big Blue, the champion of the CCIW Conference. The environment in the Beck Center for this game was electric, with droves of students and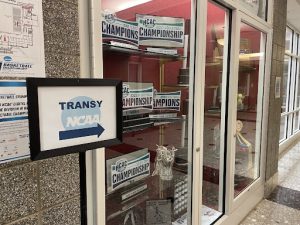 Transylvania fans, as well as a large contingent of Millikin supporters, cheering on their teams. The Big Blue would come out swinging with impressive three-point shooting, but the Pioneers would recover to take a 36-24 into halftime. Milliken would go on an impressive run during the third quarter to tie the game at the start of the fourth. But after that, the Pioneers would take control with a dominant fourth quarter, outscoring the Big Blue 25 to 13 in the quarter, with many of the Millikin points coming when the game was already out of reach, on route to a 71-59 victory. 
With this win, the Pioneers advance to the Sweet Sixteen of the NCAA Tournament for the second year in a row. They also improved their record to a perfect 29-0, undoubtedly the best in program history. The Pioneers also entered last year's Sweet Sixteen and Elite Eight undefeated, a mark they hope to match and surpass with the games this weekend. The Pioneers will face the #16 Ohio Northern University Polar Bears in the Sweet Sixteen on Friday, March 10th at 7:00 P.M. in the Beck Center. If they win that game, the Pioneers would advance to the Elite Eight the following day and face the winner of a match between the New York University Violets and the Trine University Thunder.