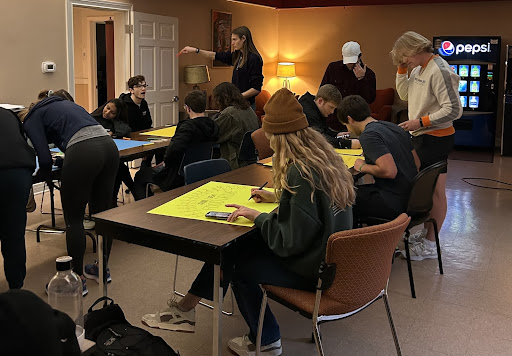 From February 1st to February 15th, Students Against Hunger and Homelessness teamed up with the Student Government Association for a campus-wide food drive to benefit the Lexington Rescue Mission. At the conclusion of the food drive, the Rambler sat down with the co-presidents of SAHH, junior Transylvania students Aubrey Knop and Maggie Whaley, to discuss the origins of the club, the results of the food drive, and future opportunities for students to get involved. 
Students Against Hunger and Homelessness, which has been limited the past two years due to the Covid-19 pandemic, was relaunched and rebranded this year by Knop and Whaley as a way to give back to the Lexington community. The club has consistently met weekly to make sandwiches and deliver them to the Hope Center, a support center for the homeless located close to Transylvania's campus."Sometimes as college students we forget about the people around us in the Lexington community," said Knop. "So we like to take people to the Hope Center to show who we're helping directly. Our main goal is just to help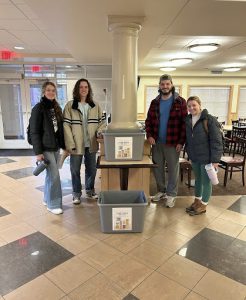 others around us." Whaley agreed with the benefits of making the sandwiches, saying, "I think it is really eye-opening to be able to see the impact that you are having on the people there. It made me very appreciative of what we do."
Starting on February first, SAHH would work with the Student Government Association to host a two-week food drive, with drop-off stations for non-perishable food items being placed in nearly every dorm. The food drive would benefit the Lexington Rescue Mission, a long-standing charitable organization in the Lexington community. "Lexington Rescue Mission is very local to us," said Knop. "We thought it was very important to help people around our Transy community because they do so much for us." The exact totals for the food drive were not known at the time of the interview, but both Knop and Whaley were confident that they had collected 150-200 food items, with even more on the way. Both gave a special shoutout to one student who led the way by single-handedly donating 82 cans. Based on the success of this food drive, Whaley left the door open for future events and partnerships, saying, "If this drive is successful, which it seems like it has been, we'll definitely consider doing things with other organizations again to get the whole campus involved and not just our members."
Students Against Hunger and Homelessness meets every Wednesday at 5:30 P.M. in Rosenthal Commons to make sandwiches for the Hope Center. To get involved with the club and look out for future events, you can follow the SAHH Instagram account (@transy_sahh) and join the GroupMe chat that is linked in the bio, and any future events will also be announced in the Daily TNotes.