Last Sunday, Senior Music Studies major Destinee Smith delivered a senior recital that was full of live performances and produced pieces which included both covers and originals with varying genres.
Smith began her recital with four covers of songs that she produced and sang. The first piece was a bass-heavy cover of Pink Sweat$' mellow song, "Honesty." The production of the song placed an emphasis on the vocals and piano with bass settling into the notes and providing the driving force for this tune. The end of "Honesty" included a surprise mashup with Daniel Ceasar's song "Get You," which added a nice touch to the cover.
The three pieces that followed were also covers of songs by different R&B artists that were produced by Smith and which included her smooth vocals.
Smith's original piece "Funky Instrumental" reflected its title with a mid-tempo hip-hop beat that incorporated elements of electronic dance music and an emphasized bass line.
The last half of Smith's recital included lots of collaboration. The song "STL (Summer Time Love)" was an original composed and produced by Smith that featured the vocals of first-year student Hakeim Reedel, who wrote the lyrics. The song featured a classic hip-hop bass line underneath the rhythm of Reedel's rap.
The two final pieces in the program were live performances featuring the piano and guitar stylings of Jenna Soderling, a fellow senior who recently had her own recital.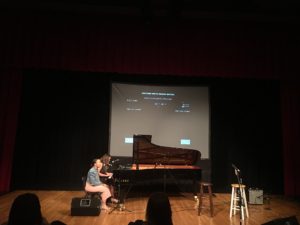 The power duo stepped onstage, both in jumpsuits, to perform their first piece together. Smith and Soderling delivered a soothing rendition of Daniel Caesar's "Streetlights" that included harmonies blended together over the top of the piano chords.
For the final performance of the evening, Smith and Soderling moved to the center of the stage to sit facing the audience which provided a more intimate feel. Together, they performed a live cover of Summer Walker's "Session 32." Watch the video below to hear the live performance of the smooth R&B song.