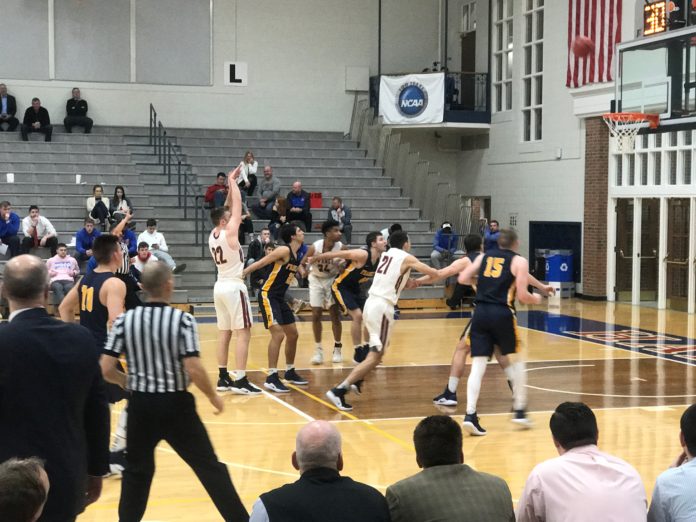 The Transylvania men's basketball team defeated Franklin on Saturday night in the HCAC tournament semifinals at Hanover College. The team advances finishing with a final score of 89-77. The contest was never in doubt as the Pioneers lead the entire second half in the victory.
Sophomore guard Michael Jefferson was a massive key to the Pioneers' success throughout the game. He posted a career-high 32 points on an impressive 14-16 shooting from the field. Jefferson also added six rebounds, six assists and four steals to complete his all-around performance.
After the game, Jefferson said: "I am happy about my performance because it helped us move onto the next round. But, I'm more happy about our win as a team. I wouldn't have been able to play with such confidence without my teammates and coaches having faith in me every minute of the game."
Another impressive performer was sophomore forward Lucas Gentry. His 19 points and 11 rebounds show that Gentry is a valuable offensive threat for the Pioneers.
This was a much-needed win for the team, not just to keep the season alive, but to win the season series with Franklin. The last time the two faced, Transy traveled to Franklin on Feb. 13 and lost by 20 points. This was after the team defeated Franklin at the Beck Center earlier in the season. This team came into the game with something to prove from the opening tip.
The Pioneers will face Hanover for the HCAC championship today at 2 p.m. The Pioneers have lost the two prior contests against the Panthers by a competitive margin.
Transylvania will have to overcome the home-court advantage Hanover earned with their superior regular season record. However, this team showed offensive promise and defensive intelligence last night in a high-pressure contest. The tide appears to be shifting in the Pioneers' favor. Should the Pioneers win, they will receive an automatic bid into the NCAA tournament in March.