The Lexington Art League's current solo exhibitions are Return From Exile by Clay Wainscott, First World Allegory by Benjamin Salley, and The God Burden by Susan Deaton.
The Art Leage also currently has a group exhibition, Aurora, which is curated by Samantha Simpson and includes works by Natalie Baxter, Adrienne Dixon, Lori Larusso, Joe Pushel, T. Michael Martin, and John Harlan Norris.
I visited Loudoun House, a Gothic revival villa, on a chilly, golden, January evening. There were no other gallery-goers, so the creak of the floorboards under my feet was especially pronounced. Inadvertent or not, this is an excellent way of tracking the movements of visitors as they appreciate the art.
My path began with Clay Wainscott. His paintings glow from within as if neon is mixed into the acrylic. His piece Wet Country Road captures the dull dreariness of a cloudy drive down a slick back road while simultaneously charging the scene with energy.
Wainscott's stylistic evolution is clear throughout the exhibit. I started with his Self Sans Hands, an acrylic painting done in 1991. His newer pieces are brighter and glossier; they are much less textured than his self-portrait, which has a smeared effect. It seems he has returned from exile with a vengeance.
---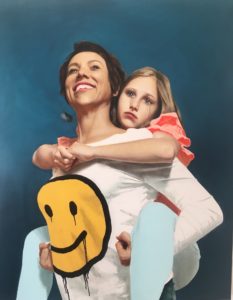 Benjamin Salley's Volunteer depicts a mascara-smudged, fur-coat-wearing, toy-dog-clutching woman. Her shirt reads "I VOLUNTEER", a sentiment echoed by the crown of thorns that digs into her dye job. In this painting, Salley is making a satirical jab at the sect of individuals whose mission it is to fix our woebegone and broken world as ostentatiously as possible with a self-victimizing air.
Contradiction also exists in Salley's Child Support, an oil painting done on panel. Featured is a smiling woman with a crying girl riding piggyback behind her. Even the woman's shirt is a smiley face, though its eyes and mouth are dripping with black ink, mirroring the child's tears. It seems that despite appearances, the child isn't receiving the support she needs.
---
Warehouse, by Susan Deaton, is a ballpoint pen piece that shows a raven gliding over a sea of mask-like faces. In her artist statement, Deaton discusses her Catholic upbringing, which she has abandoned, and the problems she now has with Christians who twist God's words to hurt others. The raven could be death, choosing who to select next from the sea. Everyone's eyes are closed to the suffering of the world.
---
Aurora invokes color to "affect one's mood and alter perceptions." An example of this is Lori Larusso's Conciliatory Cake Slice, which depicts a chunk of store-bought cake in an open plastic container, left sitting out on a vast green surface. It feels forgotten.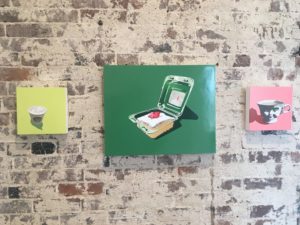 Speaking of forgetfulness, Joe Paushel's Wearing All That We Had has certainly never misremembered anything. It is a ceramic head with a towering brain or brain-like headdress. The point seems to: In the end, we only have what's in our minds.
Each piece in the exhibitions is steeped in allegory, color, or political commentary. There is something for everyone, so bring a friend and make your way over to Loudoun House. They are open every day but Monday and don't close until 8 pm on Fridays. Get out there and look at some art! It's good for you.