Last Thursday the 25th, the Black Student Alliance and poetry club SpeakOut at Transylvania University co-hosted an open mic night in commemoration of Dr. Martin Luther King, Jr. Day. The event was hosted in the library basement in the Writing Center, and the subject of the night was Civil Discourse, which most of the pieces centered around.
The pieces presented by many of the students, mostly members of the BSA and SpeakOut, but with a good number of others coming out and participating. At the height of the event, around 40 people were engaged in discussion about Civil Discourse and sharing their art.
There were a variety of pieces showcased, the first of which was a series of paintings done by BSA member Jada Commodore. When asked about her contribution, Commodore said "Not many students are able to show their artwork, it was nice to be able to be a student and show my artwork."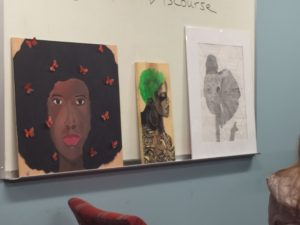 Beyond the visual art pieces, a number of students performed poetry and gave talks to spark dialogue among the group, such as Speak Out member and student Seth Wyatt. Wyatt began his performance with his own poetry and then opened up to the floor about the problems facing the country today which led into a discussion about what is to be done. Wyatt said "The event reflected the title brilliantly and people who actually wanted to make a difference held discourse about how to make that change."
Overall reception to the event was positive, and when asked if there would be future collaborations between the BSA, Speak Out, and potentially other student groups in the future, Te'asia Martin from Transylvania's Diversity and Inclusion department said "I would think so! At the leadership conference, we stressed community building with collaboration and the event was amazing," indicating more events to come.
The next Speak Out Open Mic night will be February 15th, Valentine's Day, and the theme will be 'Sex Ed.' The poetry group encourages everyone to come out and attend or share their art!
---
You can view other student art in The Rambler's Student Gallery.