The Day of the Dead Festival, known to Spanish speakers as Festival del Día de los Muertos, is celebrated around the world—including, this year, in Lexington at the Living Arts and Science Center, only a short walk from Transylvania's campus
Día de los Muertos is celebrated annually on November 1st. It is often associated with the Mexican state of Oaxana, where concerts and games are featured alongside the ofrendas—altars that feature family members who have passed.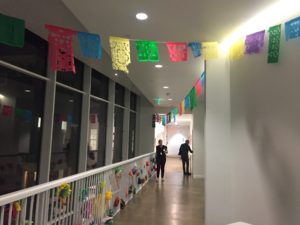 Outside of the building were a few tents serving Mexican foods, such as elotes, churros, and chicharrónes. As my friends and I were getting food ourselves, it began to rain, but the food kept coming.
Tissue paper crafts decorated the building's interior: flowers were tied to the staircases while cut-out designs—papel picado—hung from the ceilings. Gracing the walls were pieces of art by both Kentucky locals and children from Havana, Cuba.
Ofrendas were the biggest attraction for me. There were a few made by families, and I was able to get a picture of a community ofrenda decorated with many monarch butterflies. A staff member was very happy to tell me that monarch butterflies migrate around November 1st, and in Mexico, they represent the souls of soldiers that have passed.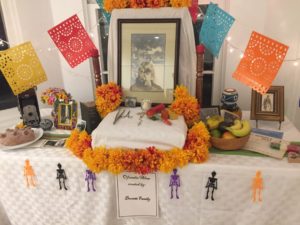 Usually, these ofrendas are featured in a nearby cemetery, and a candlelight walk is held from the Living Arts and Science Center to the ofrendas. Due to Lexington's rainy weather, it couldn't be held this year, but a staff member told me that it's amazing to experience. She urged that I come back next year to see it, and I know that I will.
---
Ver las ofrendas: