On May Day this week, left-wing radicals from various organizations gathered in Duncan Park not to overthrow capitalism but to eat and fellowship.
May Day, or International Workers' Day, is celebrated every year on May 1 in honor of workers and organized labor movements. It was an official state holiday in the Soviet Union and remains an official holiday in many post-Soviet countries. In the United States, it is generally associated with radical and anti-capitalist movements and "working-class militancy."
Representatives of the Lexington Democratic Socialists of America, Anti-Racist Action, Food Not Bombs, the Kentucky Green Party, and the Kentucky Socialist Party were in attendance, as were several candidates for local office, who attended in solidarity or support. Winter, an attendee from the Kentucky Socialist Party, noted that the event was an opportunity to bring together many single-issue "radical groups" in solidarity against the "real enemies."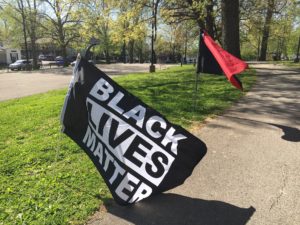 Matt Wilmore '08 represented Lexington Democratic Socialists of America (DSA), a local chapter of a national organization. Locally, DSA is working to end cash bail in Lexington jails and to fight gentrification in North Limestone neighborhoods. Nationally, DSA, which has been described by Dr. Cornel West as "the major organization on the American left with an all embracing moral vision, systematic social analysis, and political praxis rooted in the quest for radical democracy, social freedom, and individual liberties," advocates for Medicare for All. It has around 37,000 members, up from 6,000 prior to 2016.
Kent "Swampy" Glade attended in support of the Kentucky Green Party. He said that the Green Party stood for "nonviolence, local decision-making, ecological wisdom, and decentralization of power," and characterized its work as in keeping with Kentucky's tradition of moral seriousness, dating back to the Christian Revival Movement. The issues he emphasized included ranked-choice voting, legalization of medical and recreational cannabis, and revitalization of the industrial hemp economy.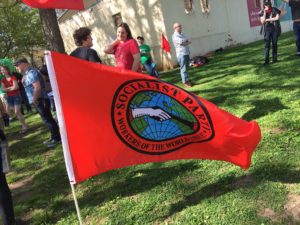 Jake and Zoey, who declined to give their last names for reasons of personal safety, attended as representatives of Anti-Racist Action. They defined their work as an effort to combat local fascism by providing community support to those who are targeted by fascist activity. They described ARA as a non-sectarian movement committed to "taking care of each other… to self-reliance outside capitalism, [which] ignores the needs of people" in favor of corporate interests. They emphasized the intersectionality of anti-capitalism and anti-racism.
Dr. Arnold Farr, professor of philosophy at the University of Kentucky, is a non-partisan candidate for an at-large city council seat. He stated that he was attending in solidarity with the tradition of May Day and that he worked to fight "any form of injustice." He is a local organizer for the Poor People's Campaign, an effort begun by Dr. Martin Luther King, Jr., and recently revived with the leadership of Rev. William J. Barber II.
Mister Broyles is a Democratic candidate for Constable District 1 who said that the office is not currently being used as effectively as it could be. In Kentucky, Constables are responsible for performing all evictions, and Broyles pointed to disparities in how those evictions are handled "on the North Side," where people's belongings are often placed on the curb to shame them, versus in other parts of Lexington, where such a sight is not as common. He argued that the Constable should try to provide informational resources to people at risk of eviction and offer moving services to those who are evicted and avoid the risk of eviction by helping people with their utility bills.
Food (vegan) was provided by Food Not Bombs (FNB), a "solidarity, not charity" organization that feeds the homeless in Phoenix Park every Thursday at 5 pm. Representing that group was Lyndon Diggins '19, who said that FNB has a box at Third Street Stuff for donations, which are urgently needed, especially produce and dry goods. Diggins said that FNB tries to use food that would otherwise go to waste and that they need volunteers to help cook so that the group can continue to grow.
The May Day event clearly demonstrated the intersection of national and local politics. While attending organizers variously dubbed themselves "socialists," "left libertarians," or "anarchists," the event was amicable, free of sectarian conflict, and entirely peaceful. Attendees enjoyed a meal, conversed, and went to Al's Bar afterward.